Redevelopment of 'Het Dorp'
Koschuch architects, Marc Koehler Architects and Buro Harro have designed the winning proposal for the redevelopment of 'Het Dorp,' a residential neighbourhood in Arnhem where people with disabilities can live independently and at the same time be part of the city life of Arnhem. In collaboration with BPD and van Wonen this location will be transformed to an inclusive neighbourhood with special attention to quality of life, self-reliance and social and spatial sustainability. Living outside and experiencing nature are the core qualities of the design, and co-living and community concepts bring people together at different scales.
Het Dorp is located in the forest of ​​Arnhem-Noord. It was founded almost 60 years ago and has since become a concept for many people of the Netherlands. It was the first residential community in the Netherlands where people with disabilities can live independently. As the demand for care is always subject to change, the facilities of Het Dorp are outdated and no longer fit the current needs.
Our proposal completely transforms a former isolated area into an open and green neighbourhood embedded into the urban fabric of Arnhem. For residents with a disability 84 new apartments will be realized with many modern amenities attached, such as a sports roof, a health centre and mobility house. The 'village square' will be the central meeting place for the neighbourhood. In addition to the development of the health care facilities, approximately 110 new houses will be developed around collective courtyard gardens.
Read more
Location

Arnhem, Netherlands

Client

Bouwfonds property development (BPD), VanWonen Vastgoedontwikkeling B.V.

Year

2019

Status

In progress

Program

110 ground-level homes, 84 care apartments, support functions and approximately 180 parking spaces.

Area

ca 45.000 m2

Project Architect

Marc Koehler Architects and Koschuch

Landscape Architect

Buro Harro

Team

Patrick Koschuch, Marc Koehler, Maikel Super, Markus Freigang, Maurizio Bambilla, Voytech Stynbar, Marten Theeuwsen, Mai Henriksen, Marco Schlottmann, Femke van Lier, Annika Hetzel

Visualisations

Proloog
Healing environment
Environmental psychology is central to the design of the healing environment. It consists of five key elements: nature, fresh air, daylight, peace and safety. Experiencing nature, both inside and out, plays a crucial role in the design. Large windows, spacious balconies and rooftop terraces connect residents to the outside world, while allowing daylight and ventilation to penetrate the houses. The buildings have an open and inviting appearance and blend into their environment by the use of natural materials. Clear wayfinding points, long slight lines and well-lit surroundings make the area easily accessible and allow residents to feel safe. Residents can choose to be a part of the neighbourhood's hustle and bustle or sit peacefully in a tranquil place. There are various paths to wander around, whether on foot, in a wheelchair or on a bicycle. In the public space, sport and play are fully facilitated. Natural playground equipment, suitable for all kinds of ages, is installed amongst the green landscape.
Climate adaptive and a circular way of building
Energy and the use of natural materials are used very consciously. The new buildings are designed to be flexible; the layout can be easily reconfigured to suit a change in demand and essential elements are reusable, renewable or can be recycled. This circular model of building prevents the long-term demolition and the environmental costs of maintenance, renovation and even transformation during the total lifespan of the building. The entire development is equipped with sustainable and advanced energy systems that ensure a pleasant living environment. Furthermore, rainwater is collected locally and infiltrated into the 2 hectares of greenery added to the area. Nests for wildlife will be integrated in and around the buildings. Het Dorp gives meaning to the demand for a healthy and sustainable life and is therefore ready for the future.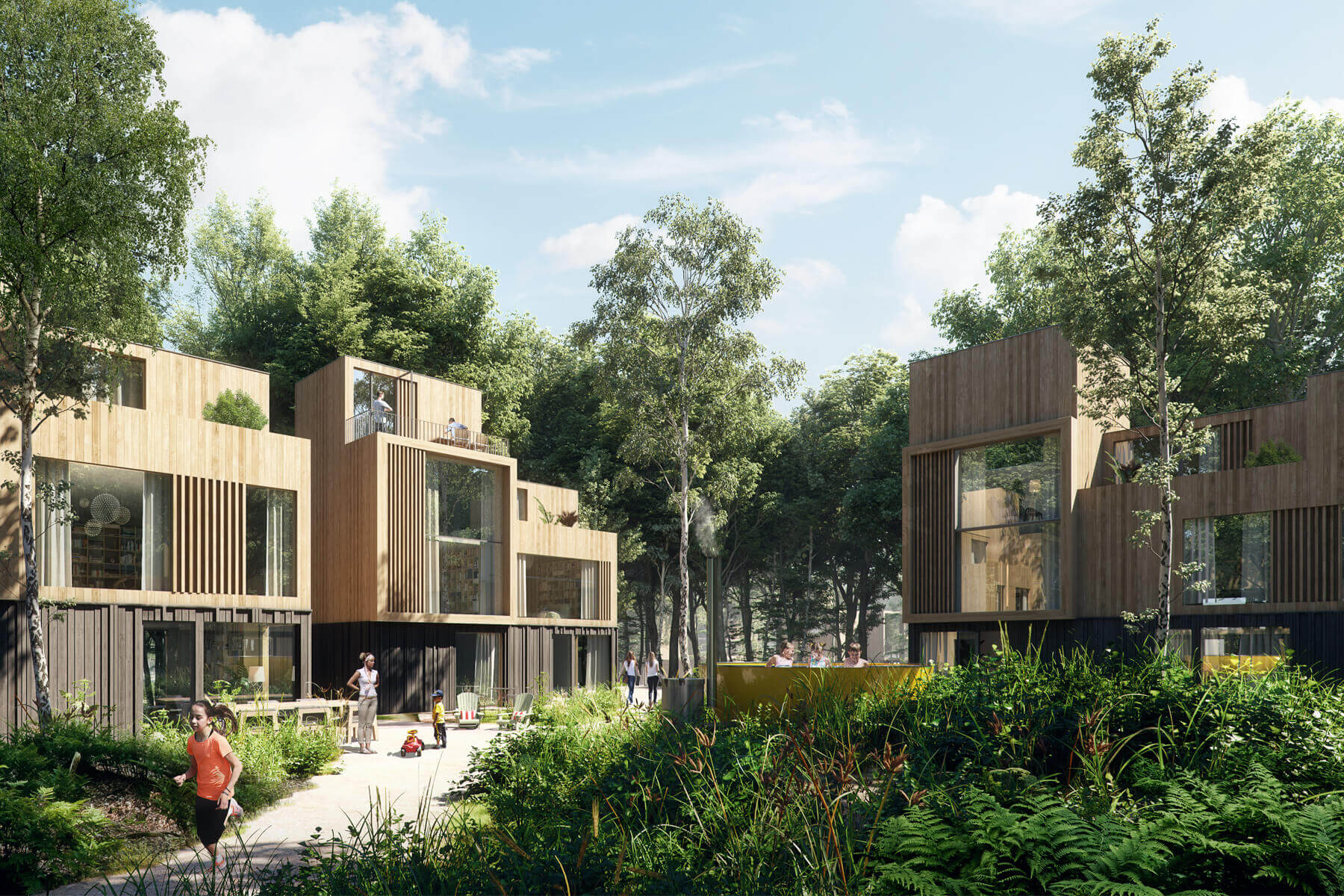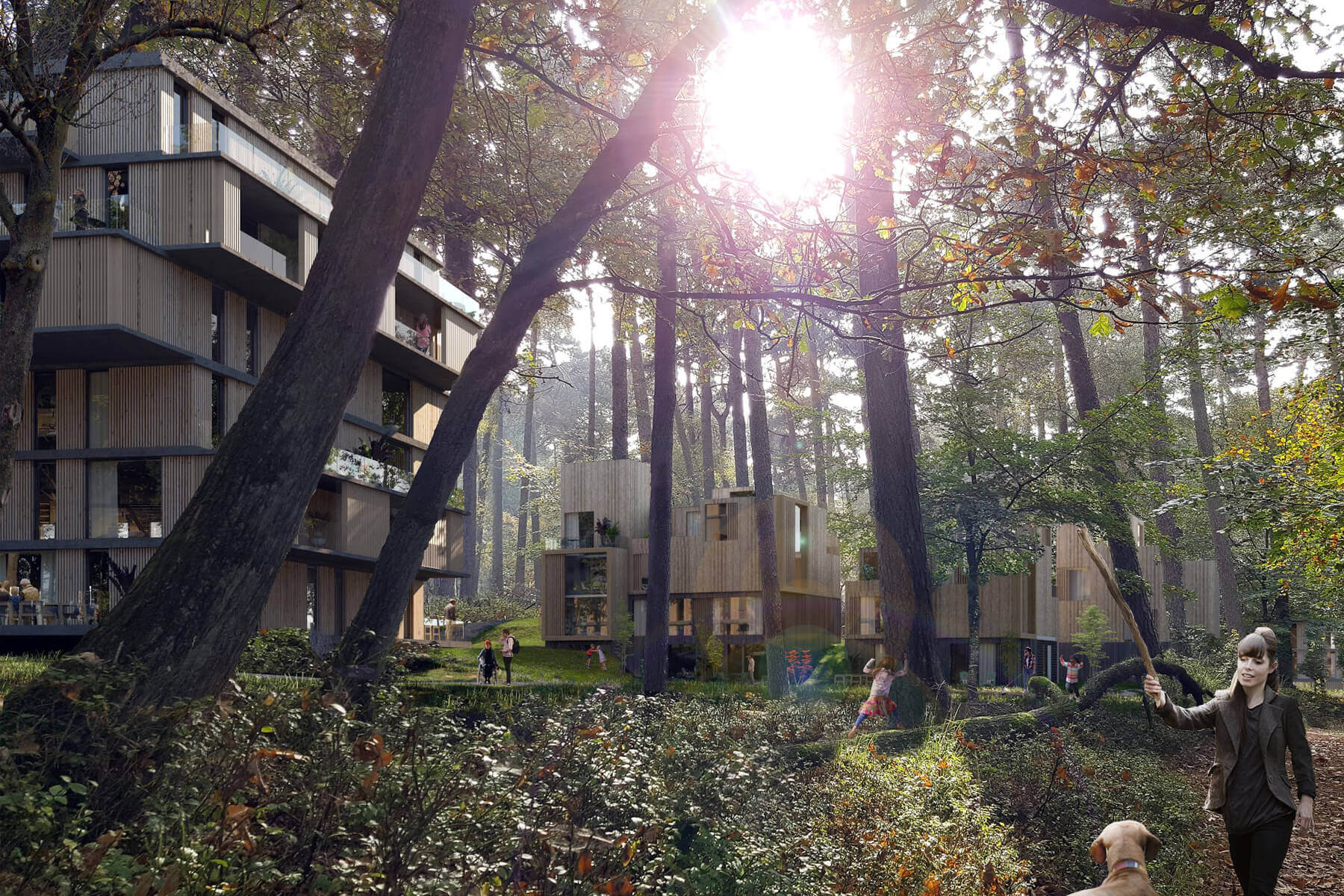 Het Dorp
In 1962 a campaign was held, called "Open Het Dorp", to raise funds for the first residential community in the Netherlands for people with disabilities. Hosted by Mies Bouwman millions of guilders were collected through a large collection campaign in a 24-hour radio and television marathon. The realization of Het Dorp in Arnhem was a major step in the emancipation of people with disabilities worldwide. The starting points of that time are still current. Nowadays, smart integration of technology plays a major role in society, allowing people with disabilities to live and participate as independently as possible. With the redevelopment, Het Dorp will once again become what it has always been: a forerunner with pioneering ideas about the care of people with disabilities.