Superlofts featured in the World Architecture Festival newsletter!
"If the initial goal is to provide affordable urban housing, the long term effect of the Open Buildings movement is to create more diverse cities, where living and working reflect real need and opportunity rather than planners' ukases, where families and non-traditional households intermingle, and where people can remain living as their circumstances evolve. How you get there, from the seed of communal living movements, via clever construction, imaginative financing, and sympathetic planners is not straightforward. But it does have a logic which Koehler and his colleagues are fighting hard to demonstrate." writes Jeremy Melvin, also a curator of the World Architecture Festival. Read the full article here
OpenBuilding.co is an emerging group of Dutch architects and engineers who are devoted to radically changing the building industry and the built environment to enable a sustainable and personalised way of living. Open Buildings are buildings open for appropriation and co-creation. They form the "infrastructure" for home-owners and users to inhabit and co-produce their environment.
We invited Jeremy to tour Superlofts in Houthavens, where he also visited the apartments of David Klinkhammer, Marieke Bolhuis and Marie-Jose Walhof and her husband Sjef Roymans.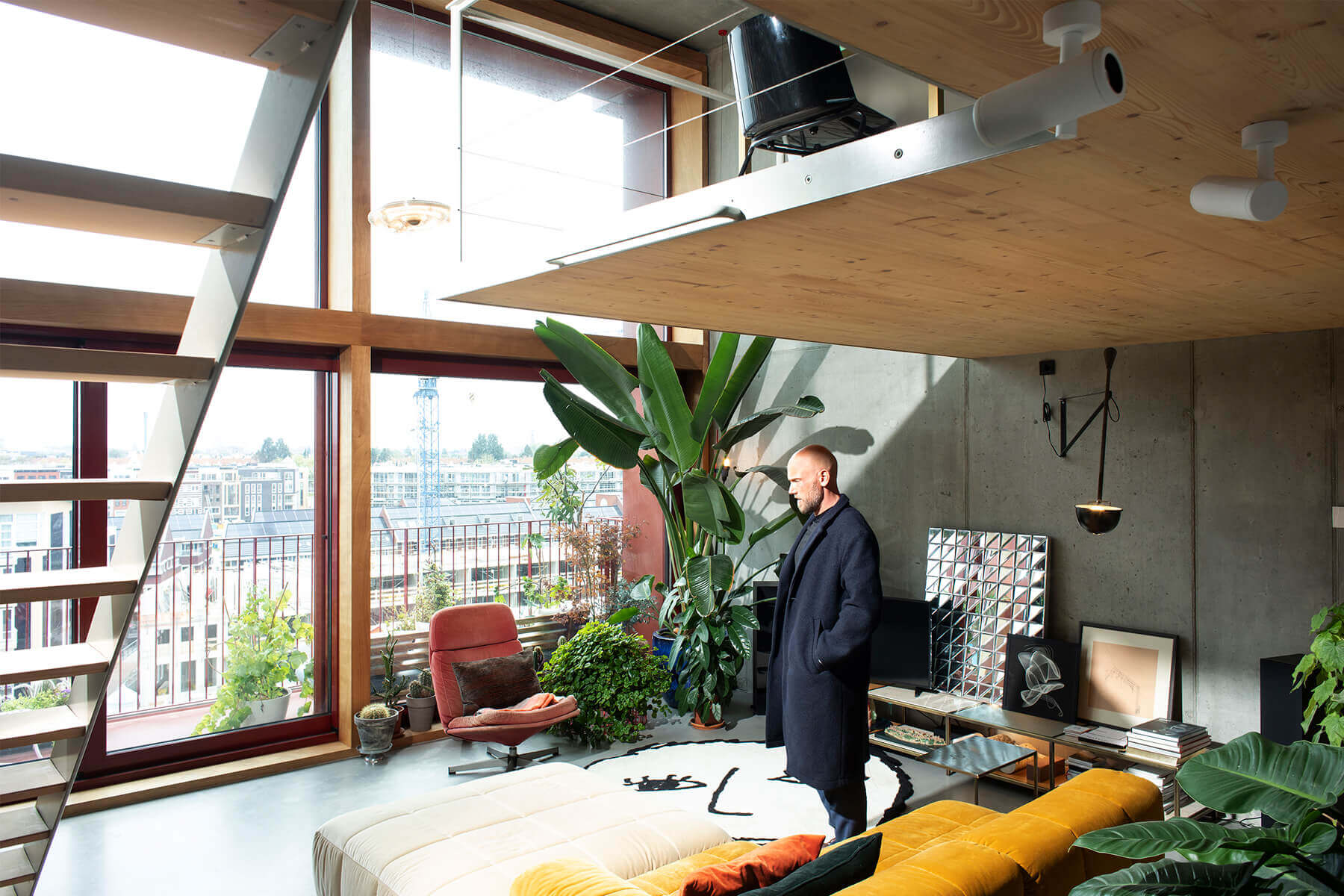 Marc & Juanjo's Loft
Koehler's own apartment demonstrates some of the inherent possibilities in this approach. It has a double height living room, a mezzanine study, with a kitchen, dining area and bedroom on the upper level. A drawer opening into the bedroom reveals a bath, though there is a fully equipped adjacent shower room. An 85sq m footprint becomes 135sq m with the additional level.
Some clever work on the communal core gives his apartment two entrances. This creates an opportunity for a small, self-contained studio apartment which can be let to generate income or provide for guests.
Both the base Superlofts building and the individual apartment benefit from getting the basics right, such as orientation and overall dimensions. The double height allows for large windows which lead onto balconies, just wide enough to be useful. And even the spaces around the building core can be colonised as bike stores or extra bookshelving.
Jeremy Melvin, 2020.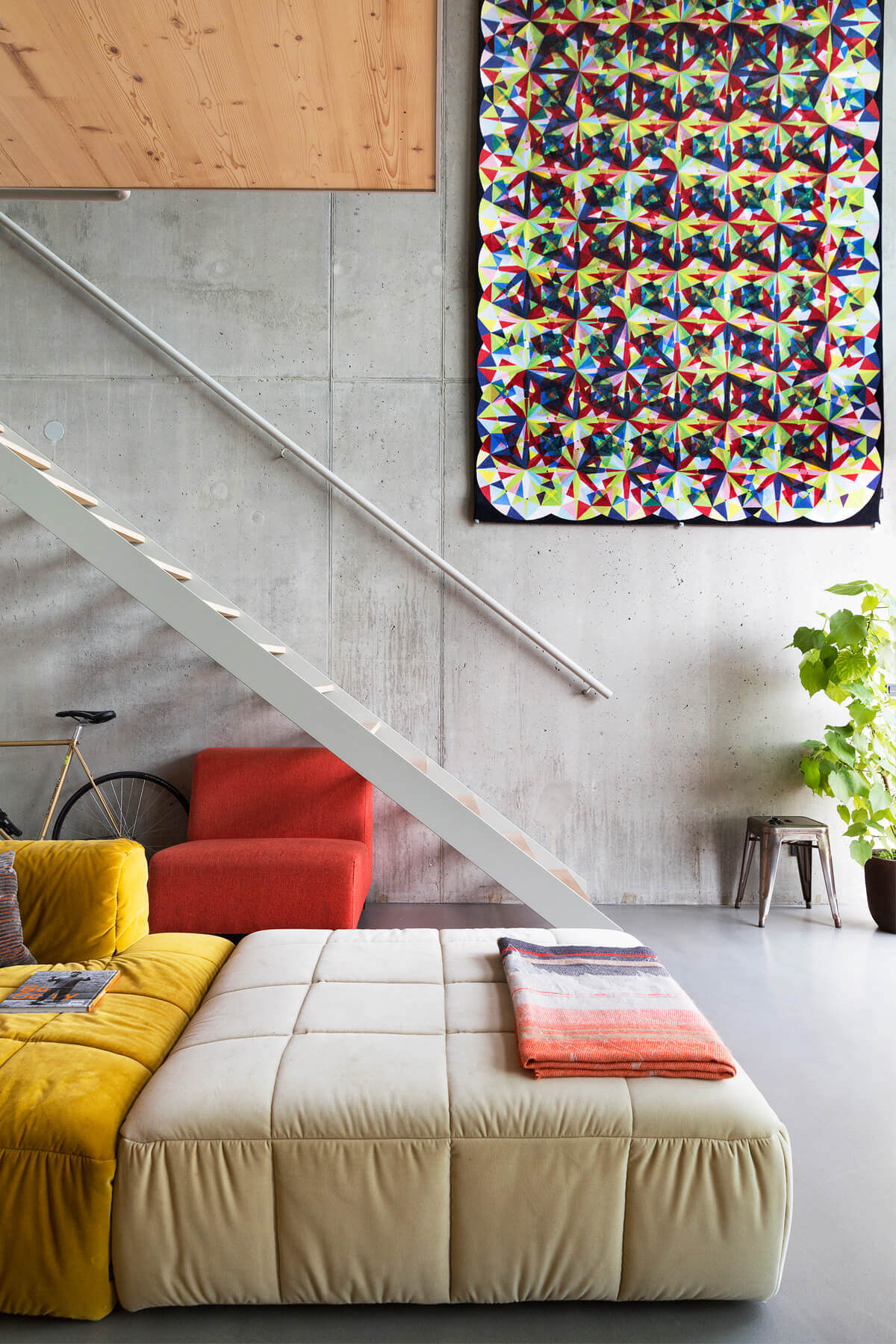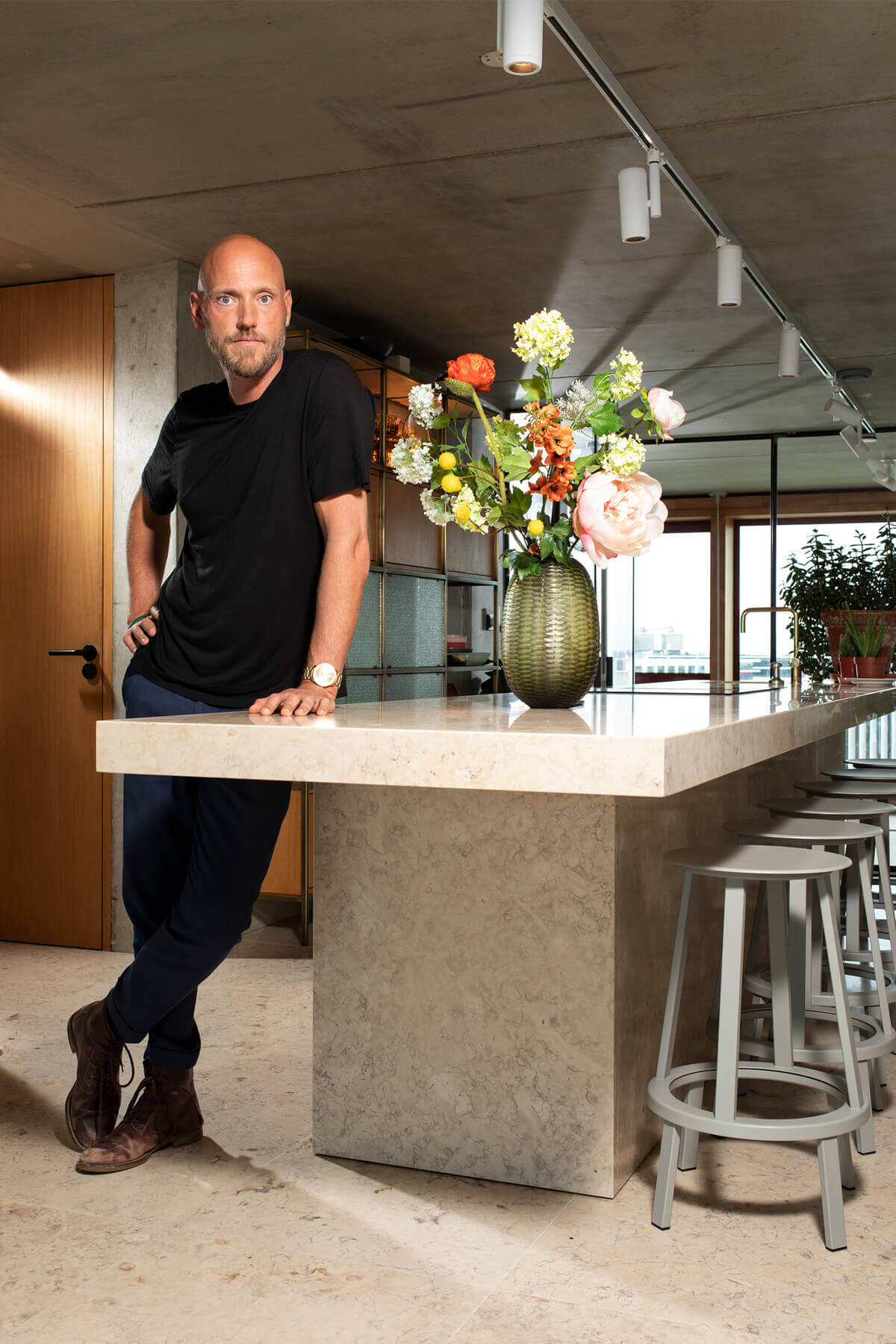 Meeting some of Koehler's neighbours confirms the diversity of residents that Open Buildings attract. Architect David Klinkhamer – who worked for Koehler on the Superlofts project before starting his own architecture and real estate firm Raumplan – and his partner Marjanne, a psychiatrist, took one unit for themselves. When their first child was born they adapted it by adding space on a mezzanine. After they had a second child they could easily extend the wooden mezzanine to create a third sleeping space. As Klinkhamer writes, it is features like 'materials, transitions and good proportions' that lift a bare shell into a satisfying and enjoyable home.
His apartment feels light and spacious, partly because the main external wall is almost entirely glazed, 'Our favourite moment', he continues, 'is the morning as the sun rises and enlightens the whole house'. But this volume also has intimate spaces for work and sleep, as well as intriguing spatial effects where the mezzanine level is not filled in and light streams through. Klinkhamer describes it as an 'urban villa', belying its original 45sqm footprint. Jeremy Melvin, 2020.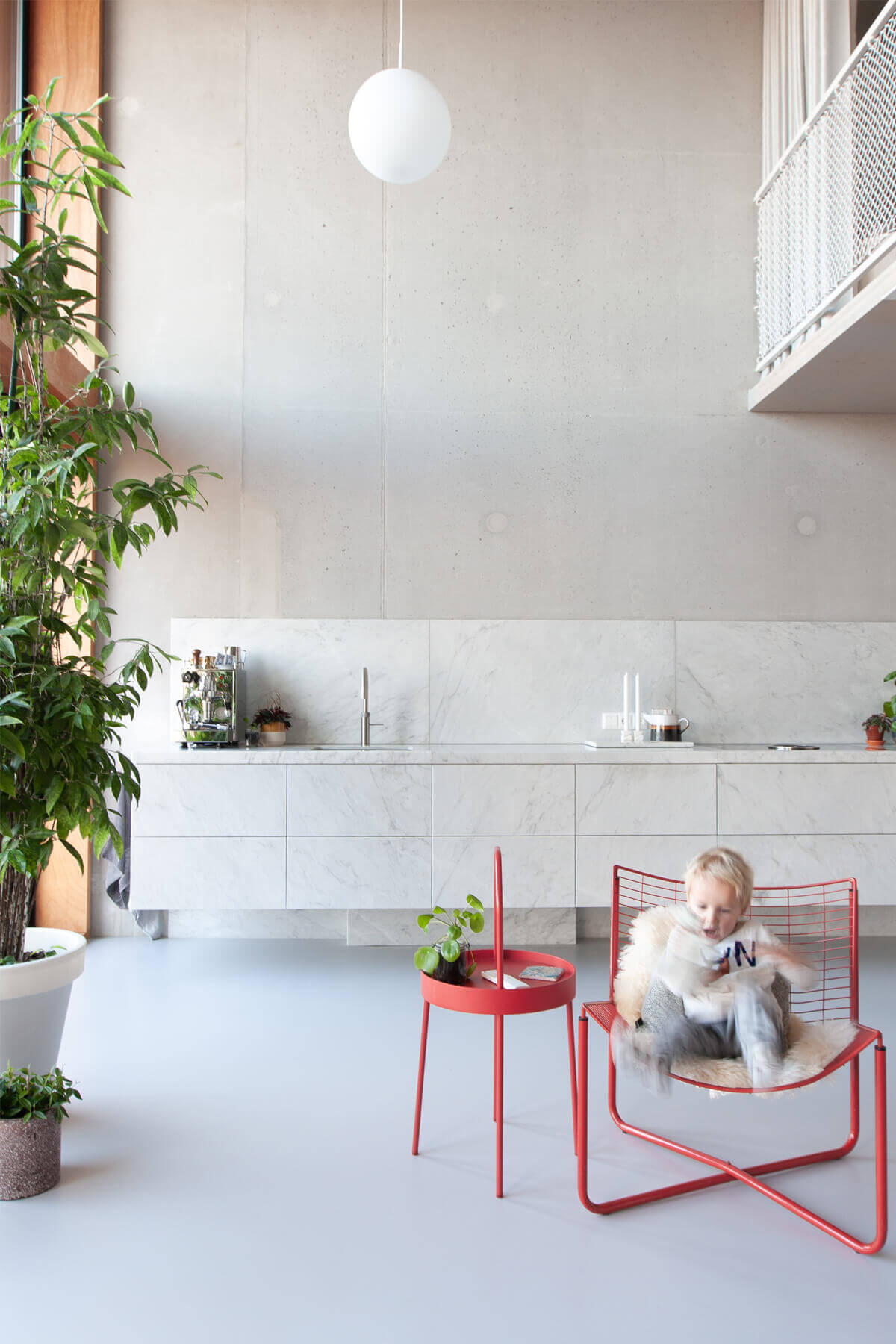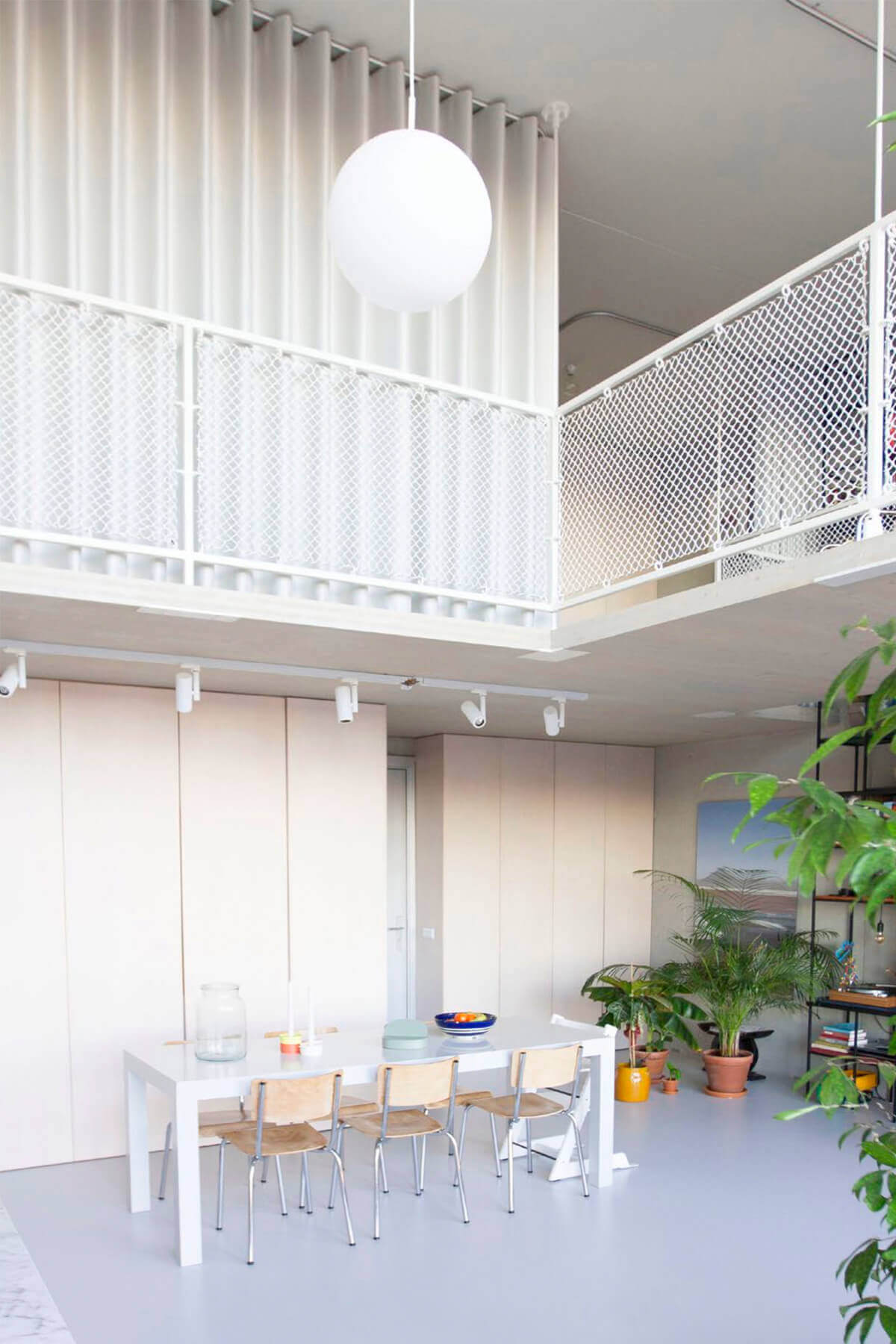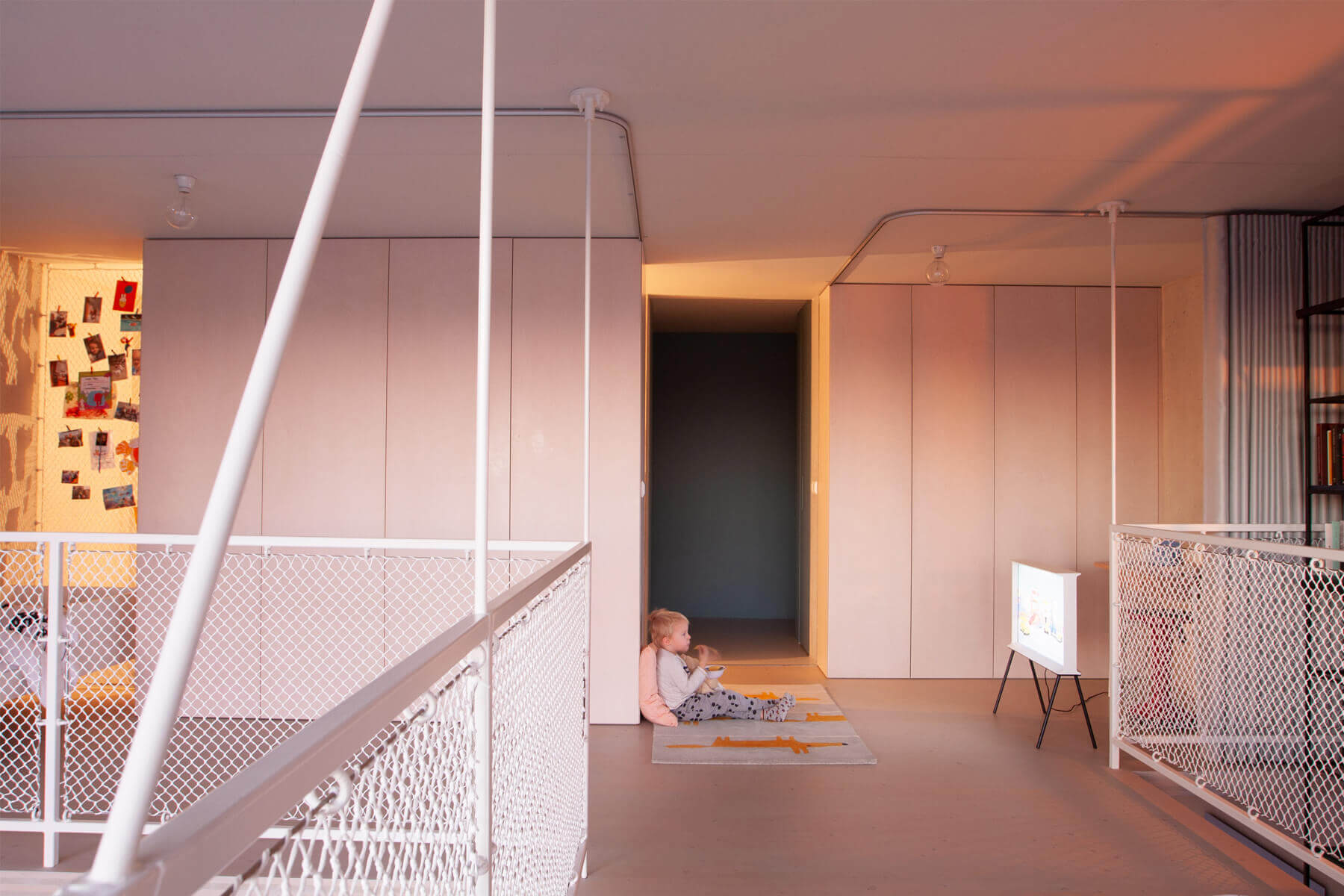 David & Marjanne's Loft
Another apartment combines living and working space for artist Marieke Bolhuis. She works in photography among other media and documented the construction process from vacant site to fitout – much of which she did herself. The double height volume serves as the studio, with a sleeping area (on a mezzanine), kitchen and living space above. A similar shell to Koehler's she too takes advantage of the option for a self contained studio for rental income, tucked below the living area, which helps to offset the cost. Jeremy Melvin, 2020.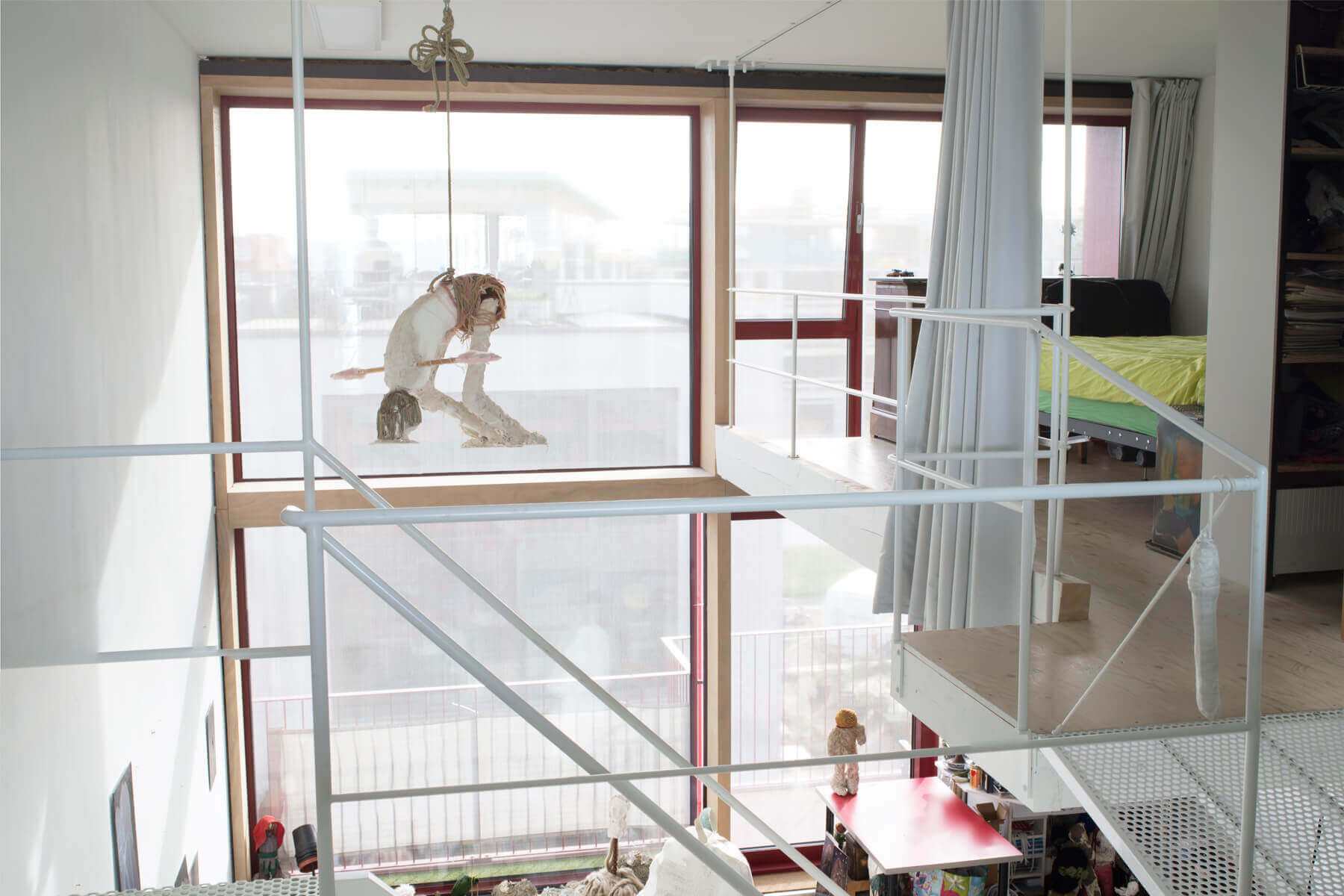 Marieke's Loft
Perhaps the most ambitious of the apartments visited is occupied by artist Marie-Jose Walhof and her husband Sjef Roymans. It is their living space, as well as a space for showing Marie-Jose's work – much of it paintings of bison – and that of their son, a furniture designer. As the second occupiers, they 'inherited' a clumsy fitout which failed – at least from their point of view – to exploit the possibilities of the concept. So they made various modifications to provide a sequence of spaces including, on the mezzanine, a music room where they offer therapy sessions. Again the effect is to create apparently large, light filled volumes which open into each other without compromising the intimacy and privacy of spaces like the music room. The staircase in this apartment is a fine token of the design idea: its lightness, elegance and minimalism whose aesthetic captures the overall concept. Jeremy Melvin, 2020. 
We also recently launched our Superliving blog on superlofts.co, where you can read more about the homes of David, Marieke and Marie-Jose & Sjef, plus many more! You can also get in touch with our interior design partners who can make a Superloft just for you.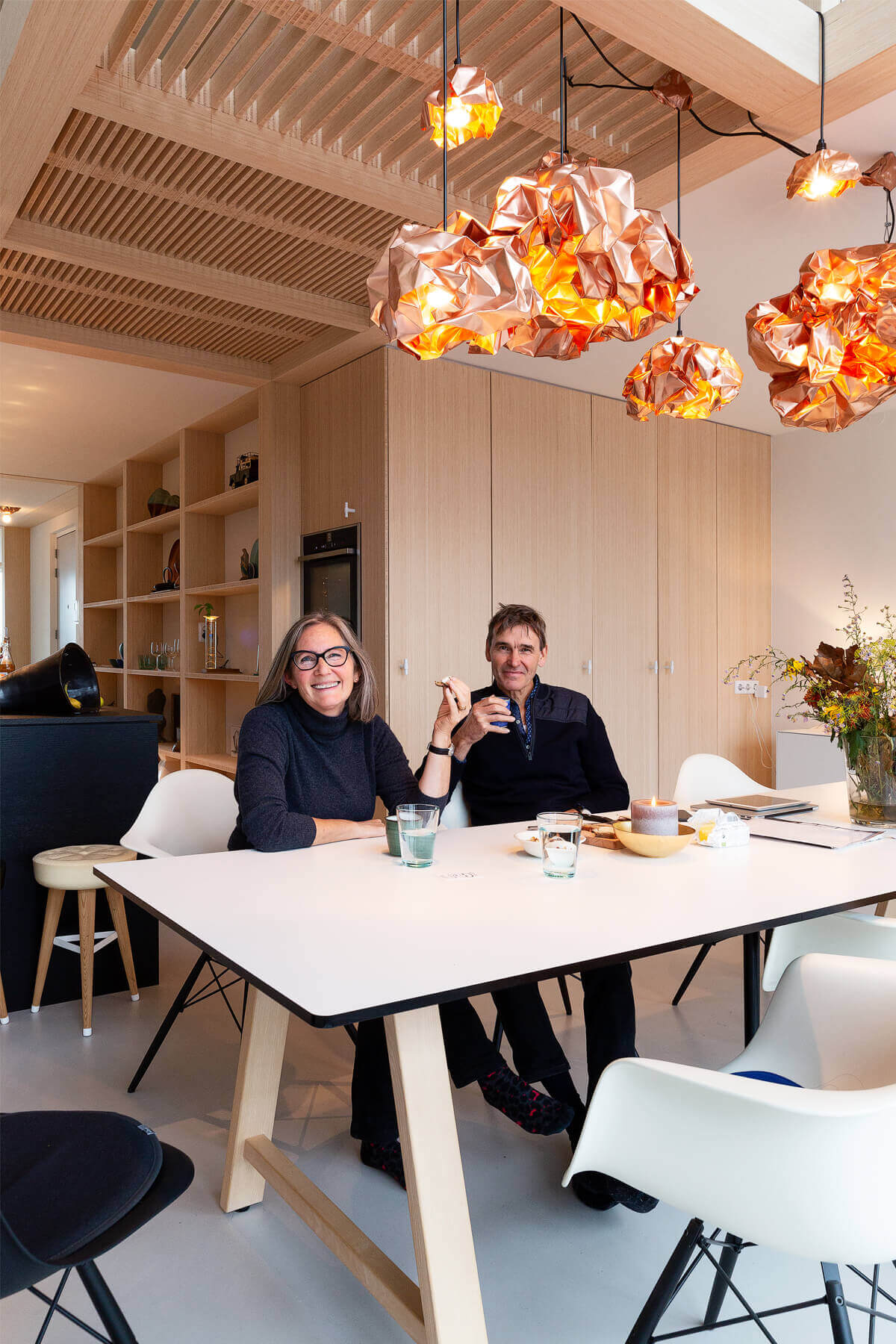 Marie-Jose and Sjef's Loft