The Superlofts Journey: from a local project to an international adventure
Superlofts is a system for living that puts people in control with a flexible, modular, co-creative approach to the ultimate urban space: the loft. It is the Superloft's mission to become the most sustainable and socially inclusive housing model of the future. Follow our journey below and explore the innovations that we have brought to life.
Using an Open Building approach, MKA developed the Superlofts concept in a series of buildings co-created with grassroots cooperatives in urban regeneration areas in Amsterdam, Utrecht, Delft and Groningen.
Superloft's mission is to become the most sustainable and socially inclusive housing model of the future. Follow our journey below and explore the innovations that we have brought to life. Visit the Superlofts website here.
Superlofts is based on the principles of Open Building. The buildings combines a robust and resilient structural framework (called "carrier" or "support") with reusable (renewable or recycled) infill systems designed for disassembly, such as facades, interior walls, fixed furniture and technical facilities.Within this concept, layouts and programs could be easily customized and reviewed, while preventing the waste of natural resources. 
MKA refined the design and concept of Superlofts with each project, beginning with Casco Lofts and moving through several plots in Amsterdam's formerly industrial harbours of Houthavens and Buiksloterham. Blok Y took the concept to Utrecht. After years of hard work co-creating the lofts from the ground up, MKA began developing the next generation of Superlofts in cooperation with partners. 
This year, Marc formed the Open Building group with an emerging group of Dutch architects, who are devoted to radically changing the built environment to enable a healthy and sustainable way of living. The group aims to safeguard the legacy of Dutch architect Prof. N. John Habraken, who in the 60s promoted Open Building as a radical shift in decision-making for mass customised housing.  
Since its inception, Superlofts have used adaptable infill systems to promote the reuse of space, materials and systems. The concept has its roots in House like Village, a residential retrofit that MKA designed for a single loft space in an industrial harbour area of Amsterdam in 2011. 
The design was widely acclaimed, leading to MKA re-apply the concept in Casco Lofts, an experimental development in another industrial harbour area, Amsterdam's Houthavens.
Read more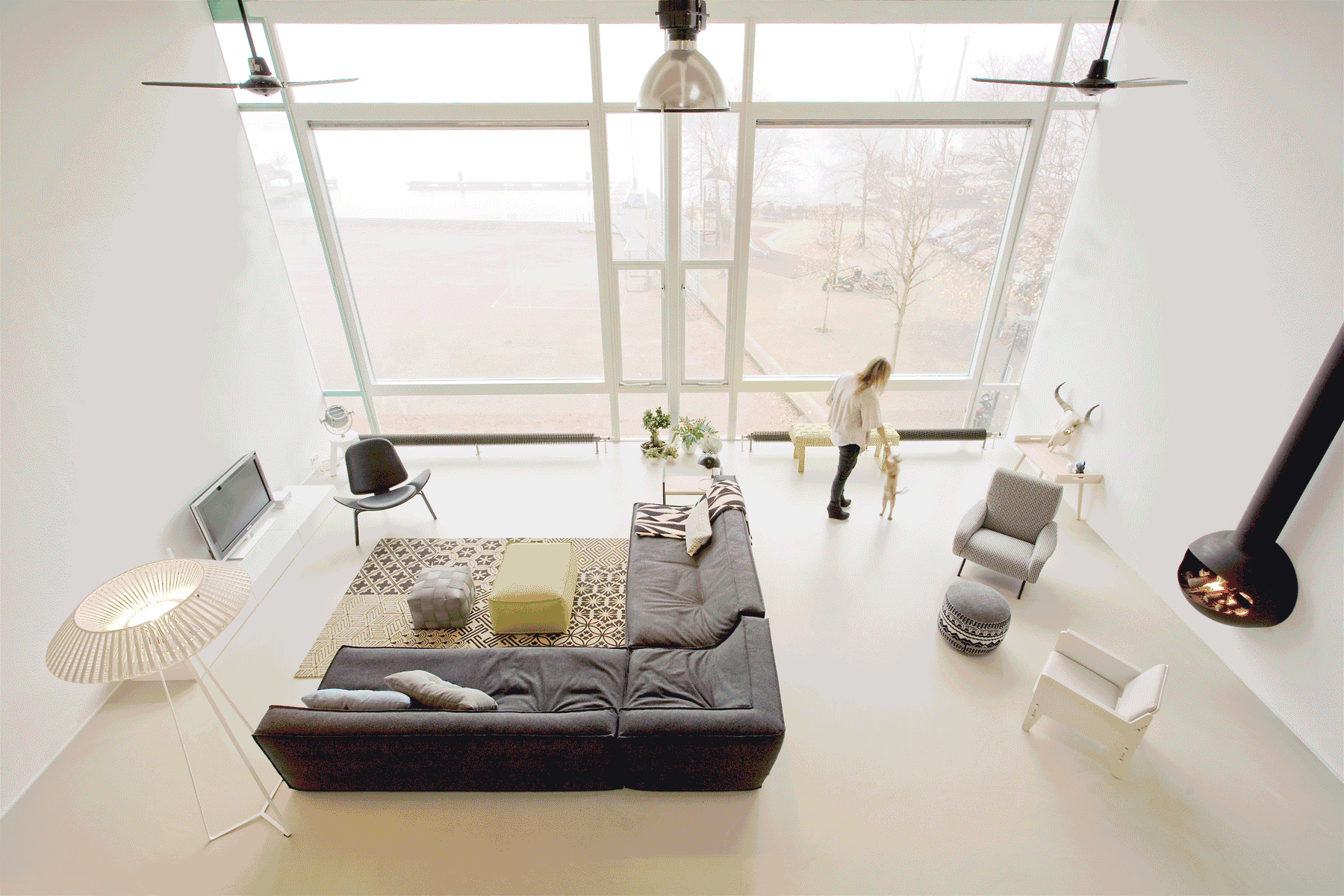 Houthavens Plot 1 & 2
In the midst of the financial crisis, with large-scale development stalled, the city government was searching for housing cooperatives who wanted to build their own homes. MKA created an Architects collective, DeHoofden, along with de Architekten Cie, Thijs Asselbergs, Space Encounters and Hootsmans Architectuur Bureau to cultivate a grassroots community of people  interested in co-creating their own affordable homes from scratch.
There was no developer; the project was financed by the future owners and the architects, reinventing the financial model, the sales model and legal framework of residential real estate in Amsterdam.
The collective designed Houthavens Plot 1 & 2 based on Open Building principles. Apartments were prepared as shell-like boxes stacked on top of each other. MKA and Space Encounters, among other architects co-designed the interiors with each owner. The result was a collection of diverse lofts and hybrid programs, supporting a more open and inclusive neighbourhood. 
Superlofts provided new possibilities for shared living, co-ownership and the combination of living and working in one place. Residents could benefit from living in an 'urban village' that is adaptable to social tendencies and climate change. 
The casco-lofts were generally 5.7m wide, 18m deep and have two lofts of 75m2 per floor, which can be subdivided in two smaller units of 35 m2. Homes ranged from XS (35m²) for the young urban professionals to XL (200m²) homes for large families.  Multiple shafts allowed for a flexible layout and the location of kitchens and bathrooms to be freely configured. 5m high ceilings give occupants the opportunity to build in 70% extra floor space. To eliminate columns and allow open plan living, 10cm thick CLT mezzanine was suspended from the ceiling with steel rods.
The building is 30m tall, with 70 apartments. The elevator only stops at every second level, so there are just 5 stops and 10 floors. Designed to be climate neutral, the building integrates state-of-the-art sustainability features, including CO2 directed vents, solar panels, geo-thermal pumps, floor cooling with water from the canals, remote controlled sun shutters and shared mobility and e-mobility options. The external facade is a prefabricated system with an aluminum frame and triple-glazing infill. Facade openings are customised to each unit layout, while the protruding concrete frame shields balconies for privacy and prevailing weather conditions. 
 Plot 1 & 2 was built by ERA Contour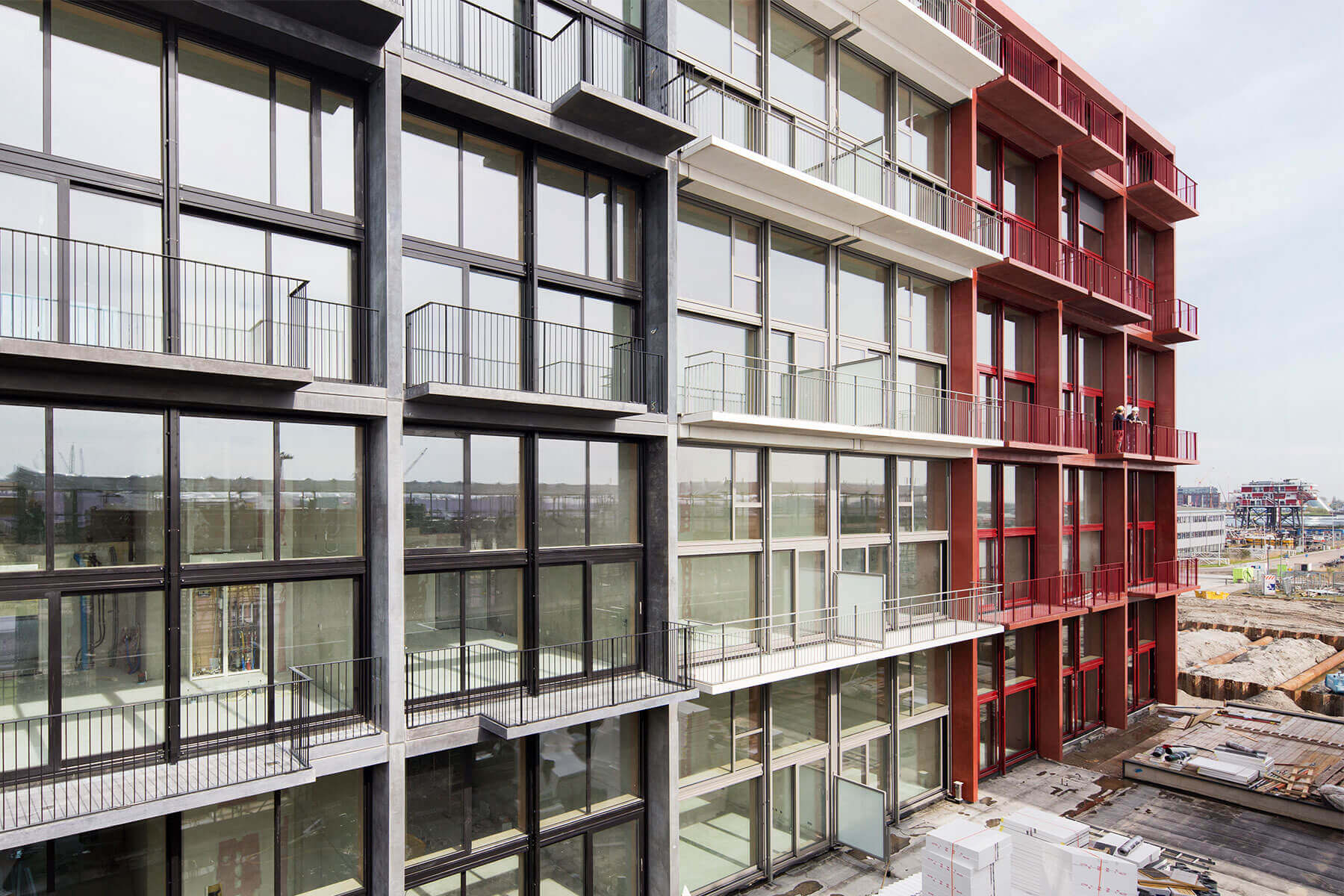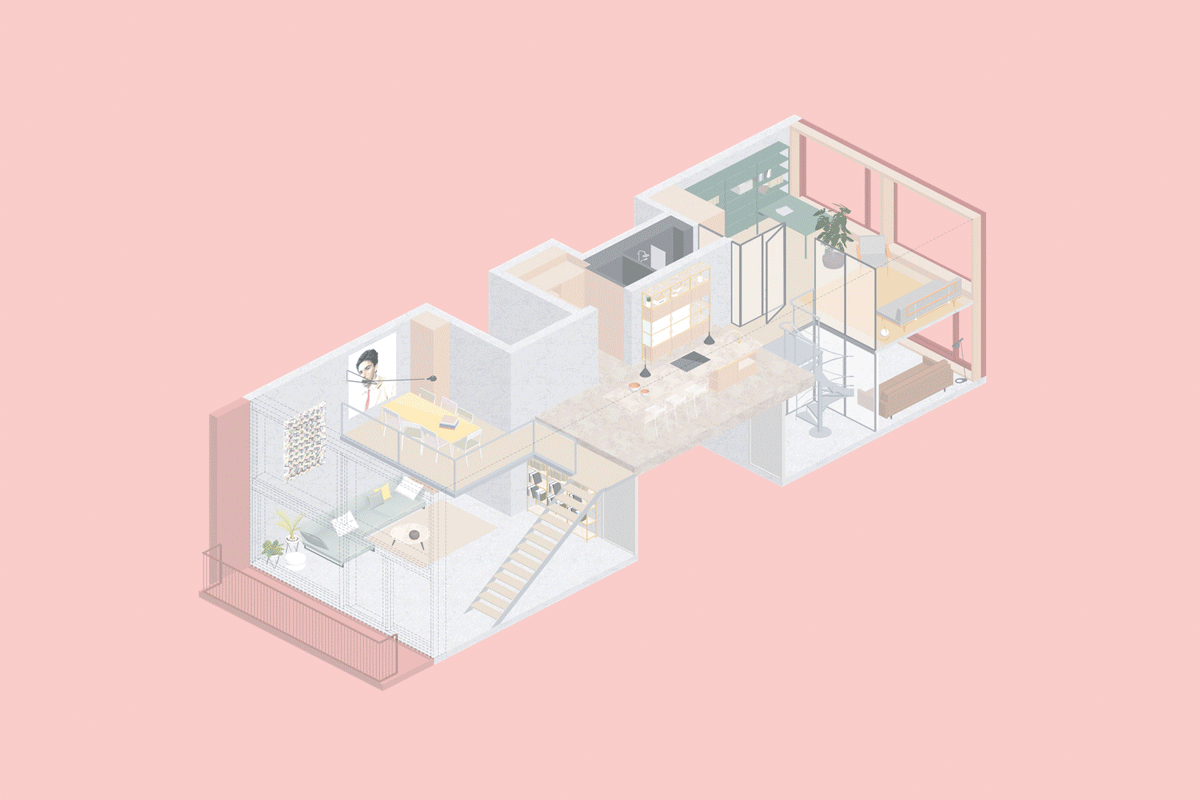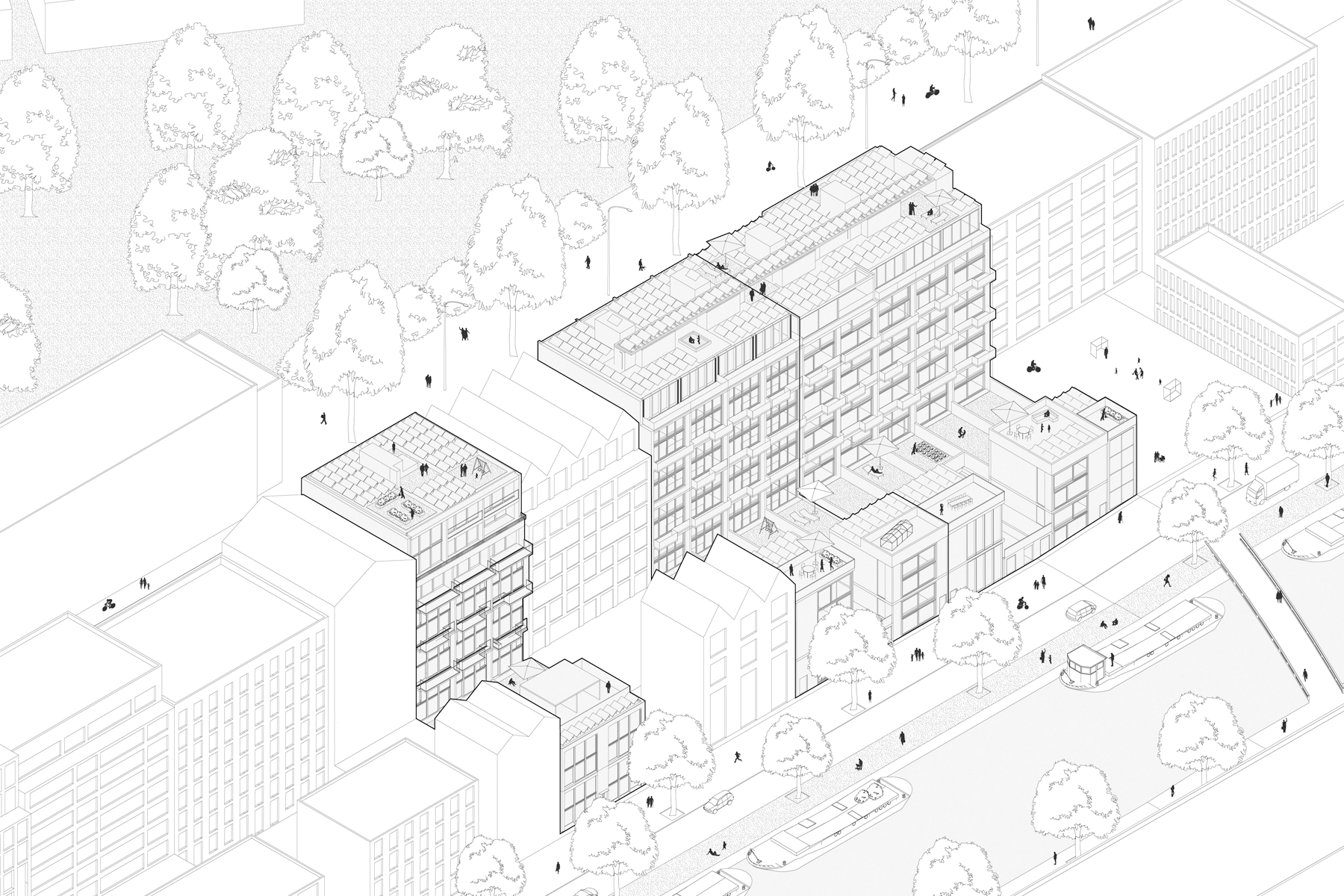 Houthavens Plot 4
The next project, Houthavens 4, was the first official Superlofts. In spite of the sluggish economy at the peak of the financial crisis in 2012, the city government had awarded MKA more plots, where they developed the design concept further and improved it by shifting the core to one facade, allowing for even more flexibility and multi-level lofts: some cover a whole five storeys. 
In Superlofts Plot 4 the loft design was improved to be 18m deep with a wider bay of 6.6m that provided more generous and flexible floorplans flooded by daylight. Moving the smart main core to the facade allowed for more diverse and modular combination of loft types, varying from one to five lofts per floor with 5m tall ceilings using the Superlofts suspended CLT-floor system in each loft. Superlofts Plot 4 was built and co-financed by ERA Contour. 
Houthavens 4 won the Best Housing and Directors Award at the World Architecture Festival 2017.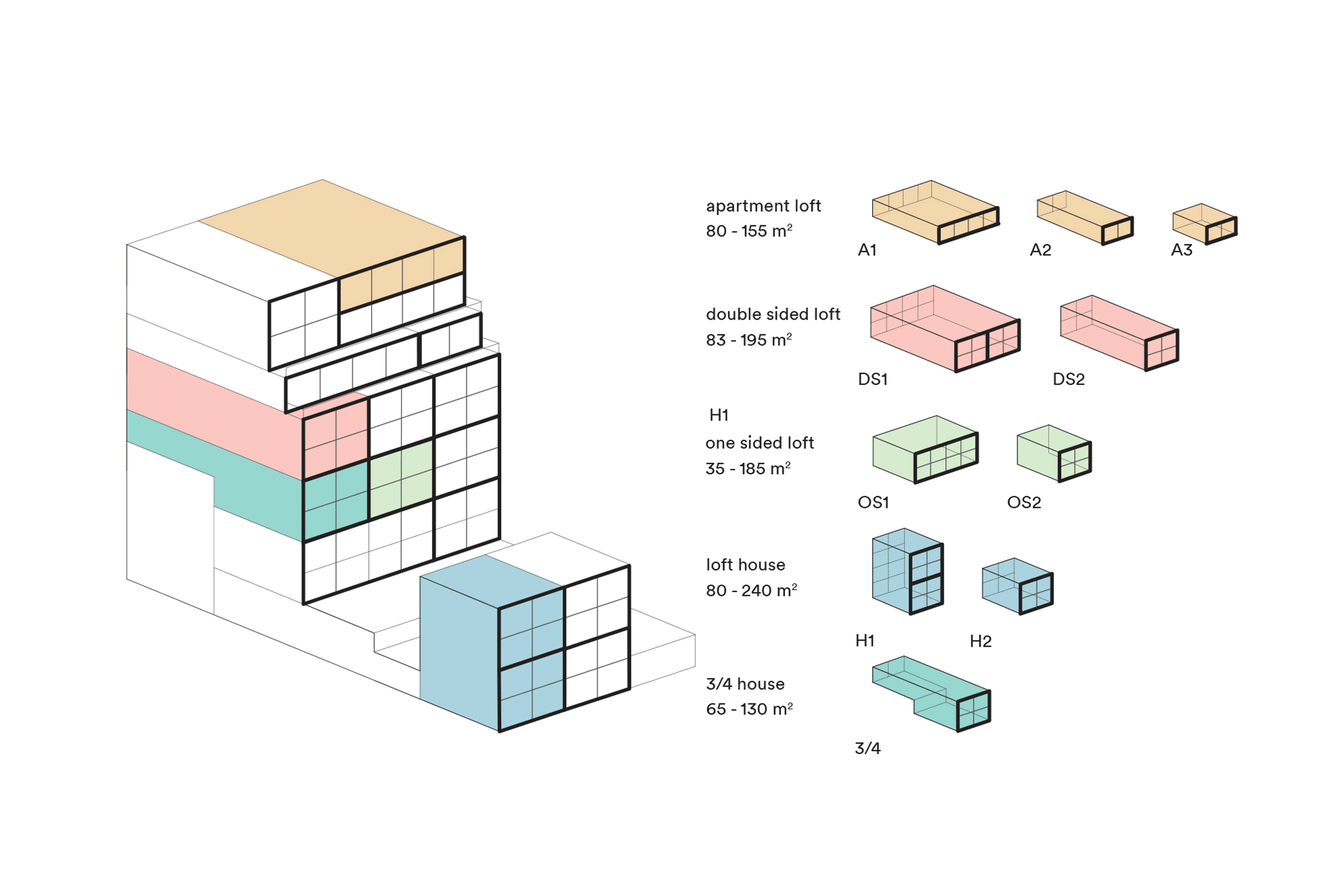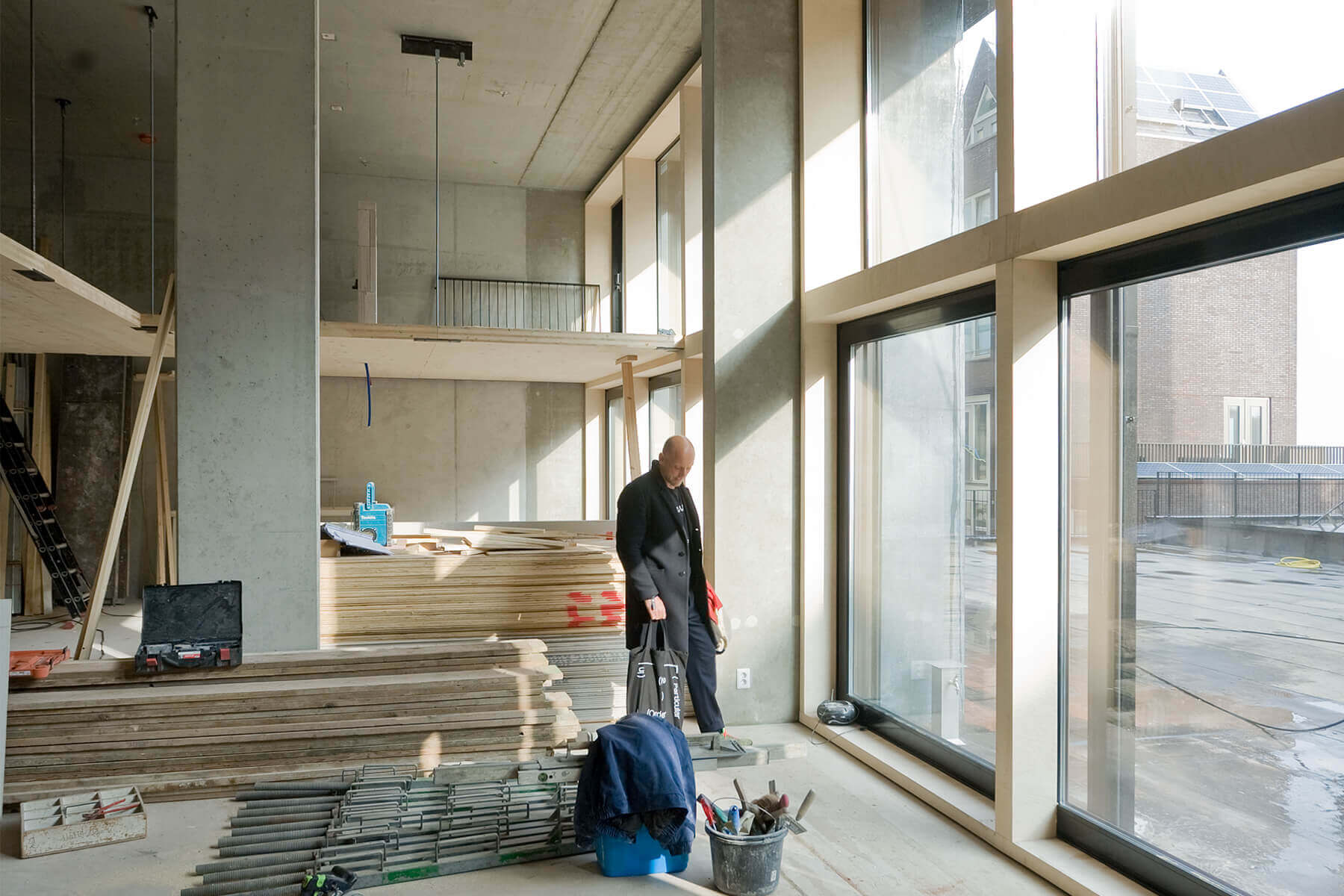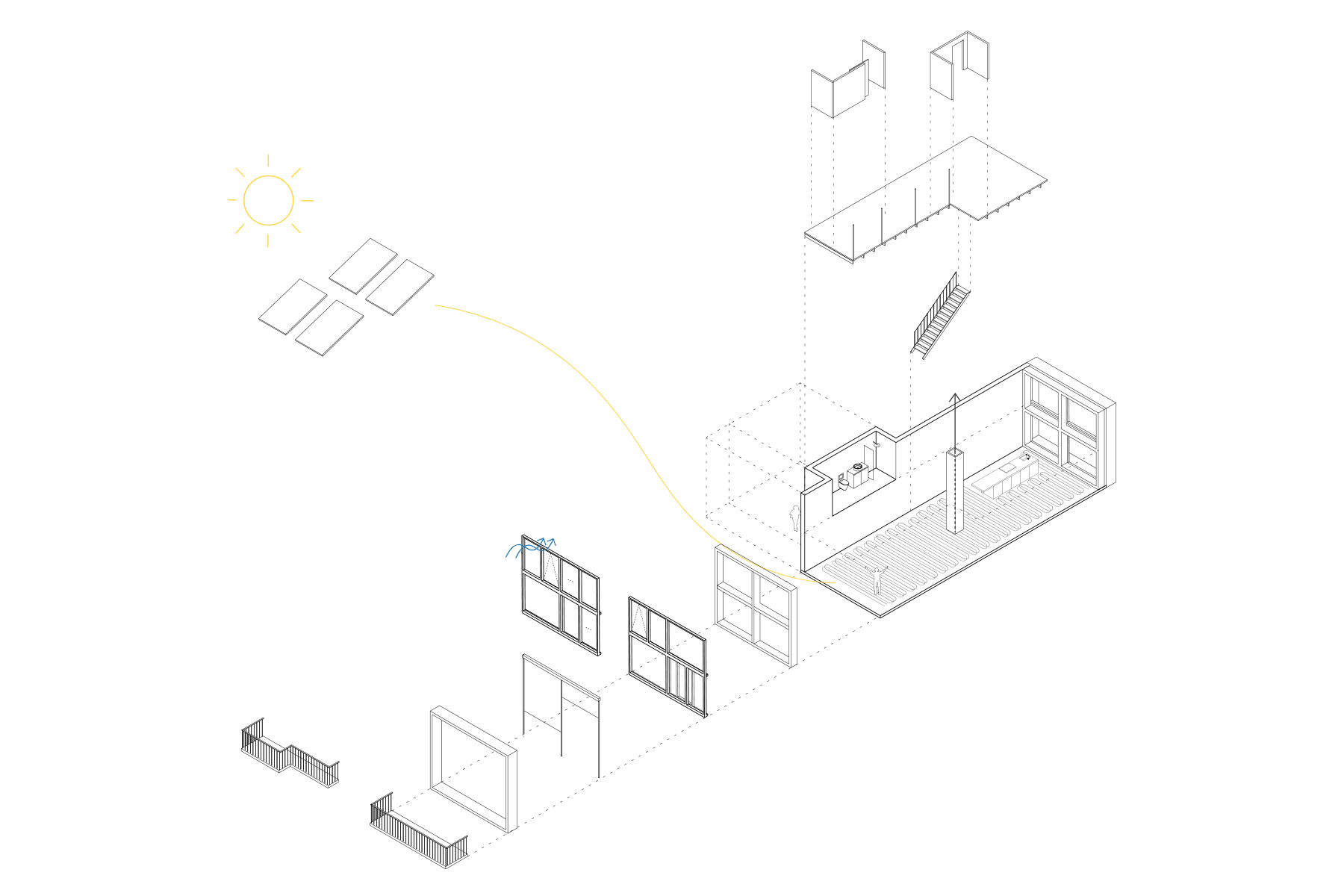 Buiksloterham
MKA then took the Superlofts concept to Buiksloterham, another industrial area in Amsterdam's Noord. As with Houthavens, it was initially an area where few people wanted to live, but MKA gathered together a community of pioneers eager to have the freedom of co-designing their own home for an affordable price. Superlofts helped put Buiksloterham on the map and were a catalyst in the area's regeneration and continued popularity. 
All Superlofts have high ambitions for sustainability, with "smart facades" that incorporate natural ventilation, passive heating, sun shading systems and rainwater drainage all cleverly hidden in the window frames. In Buiksloterham, which has a strong circular economy, the lofts are energy self-sufficient, with the owners managing a communal geothermal heat pump.
For construction a prefabricated concrete wall system was used. Lofts are 5m wide, 18m deep and have 5.5m tall ceilings, which allowed a more affordable 25cm thick traditional wooden beam floor to span from wall-to wall, or the highly efficient Superlofts suspended CLT floor. The mezzanine floors creates an average 70% of extra floor area. The project was built and co-developed by Vink Bouw.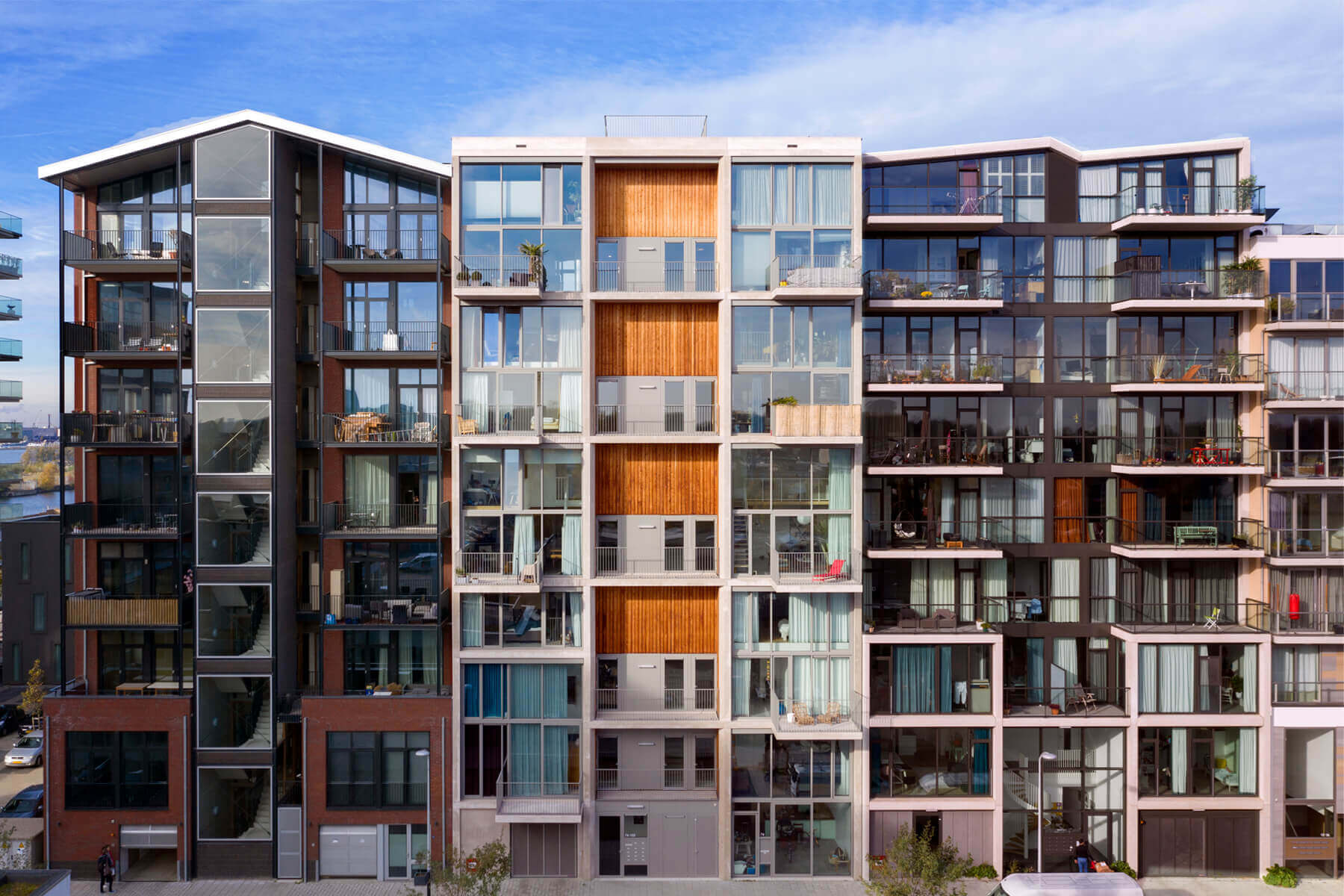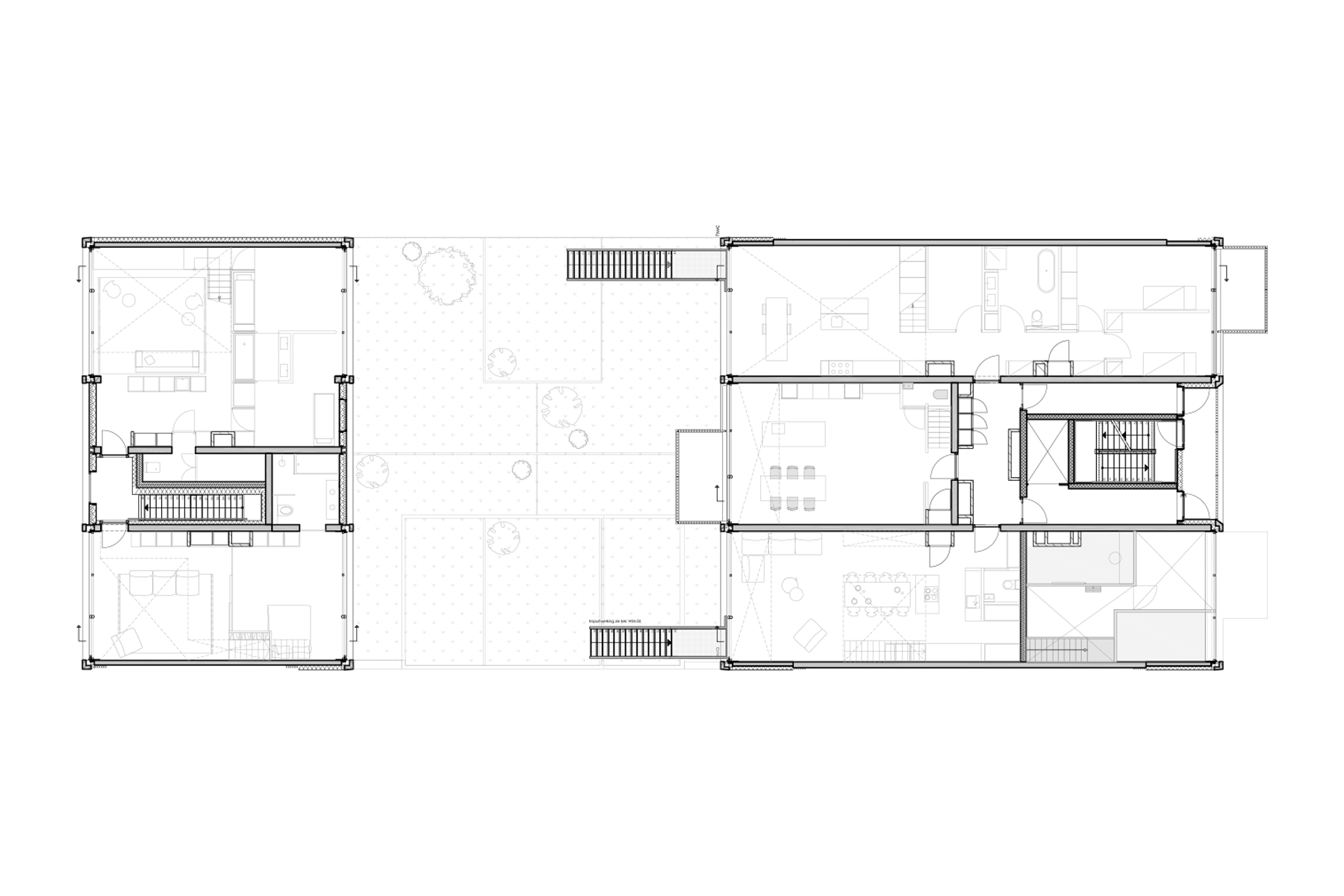 Blok Y
Blok Y, at the edge of a highway and a postwar suburb of Utrecht, came next. Here the aim was to realise the modernist dream of universal and accessible architecture in a contemporary way by embracing customisation and radical flexibility. MKA created hybrid buildings with diverse apartment types based around the needs of 30 different households: families, single young professionals, people who work at home, seniors. 
The mixture of people creates social diversity in the building and the surrounding area, and the Superlofts bring all these people together with a shared garden and entrance space. Blok Y won the Architectenweb award and Royal Institute of Dutch Architects Building of the Year 2018.
MKA co-developed Blok Y together with Stichting Blok Y (Theo Stauetner, Herald Roelevink, Parcifal van den Berg), the cooperative of residents and Vink Bouw. Following this period of grassroots development, Superlofts evolved through three projects developed in collaborations with partners: Fabrick in Almere, Superlofts Delft, and Superlofts Groningen.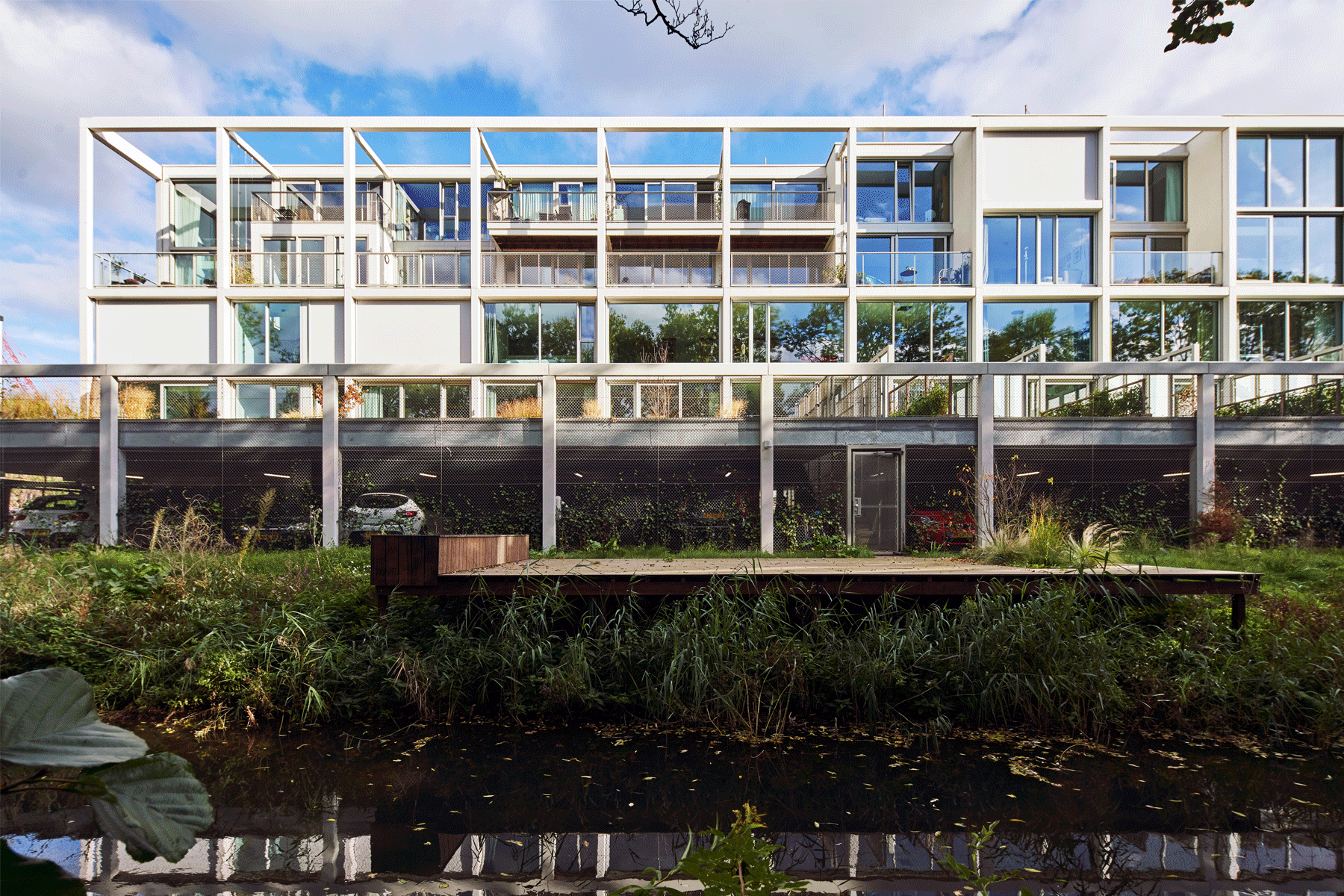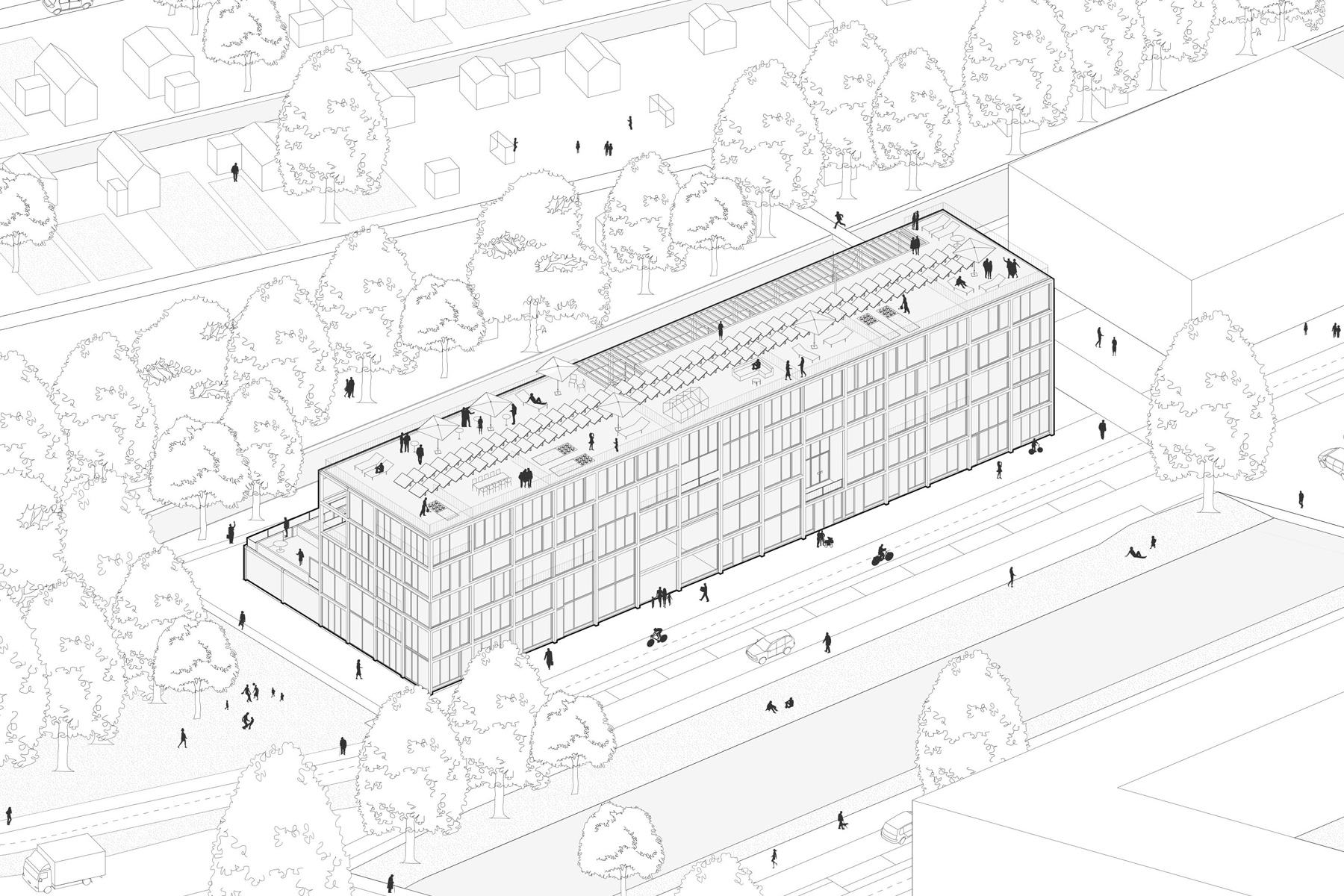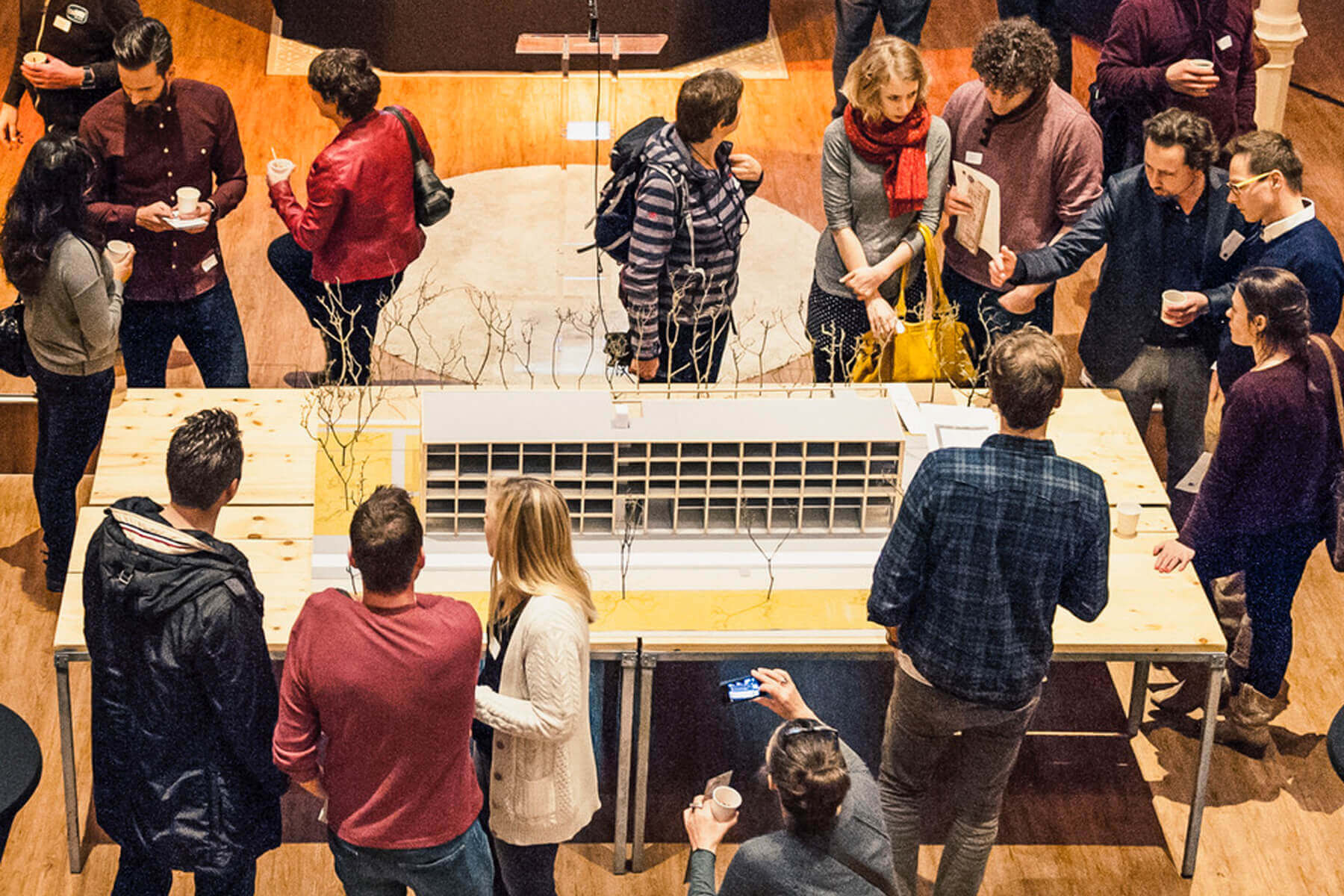 Next generation Superlofts
Next generation Superlofts are "climate positive", designed with circular (renewable or recycled) building materials and technical facilities to prevent the waste of natural resources. By combining prefabrication methods with an economy of scale (Superlofts are built in multiple locations), we can make affordable modular housing. It is our mission to become the most sustainable and socially inclusive housing model of the future.