Superlofts Houthavens gives 70 families personal freedom, views and community
Superlofts is a customisable co-living and development model based on modular and Open Building systems. Superlofts offers its members the freedom to customise or design their homes from scratch incorporating any hybrid function, and co-create shared spaces to build a global co-living community.
Location

Amsterdam, The Netherlands

Clients

Cooperative Housing Community (CPO)

Year

2016

Status

Completed

Project architect

David Klinkhamer

Process manager

Chris Kreijns

Lead architect

Marc Koehler Architects

Collaborator

de Architecten Cie, Space Encounters, Thijs Asselbers, Hootsmans

Contractor

ERA Contour B.V.

Photographer

Stijn Poelstra, Marcel van der Burg, Simon Bosch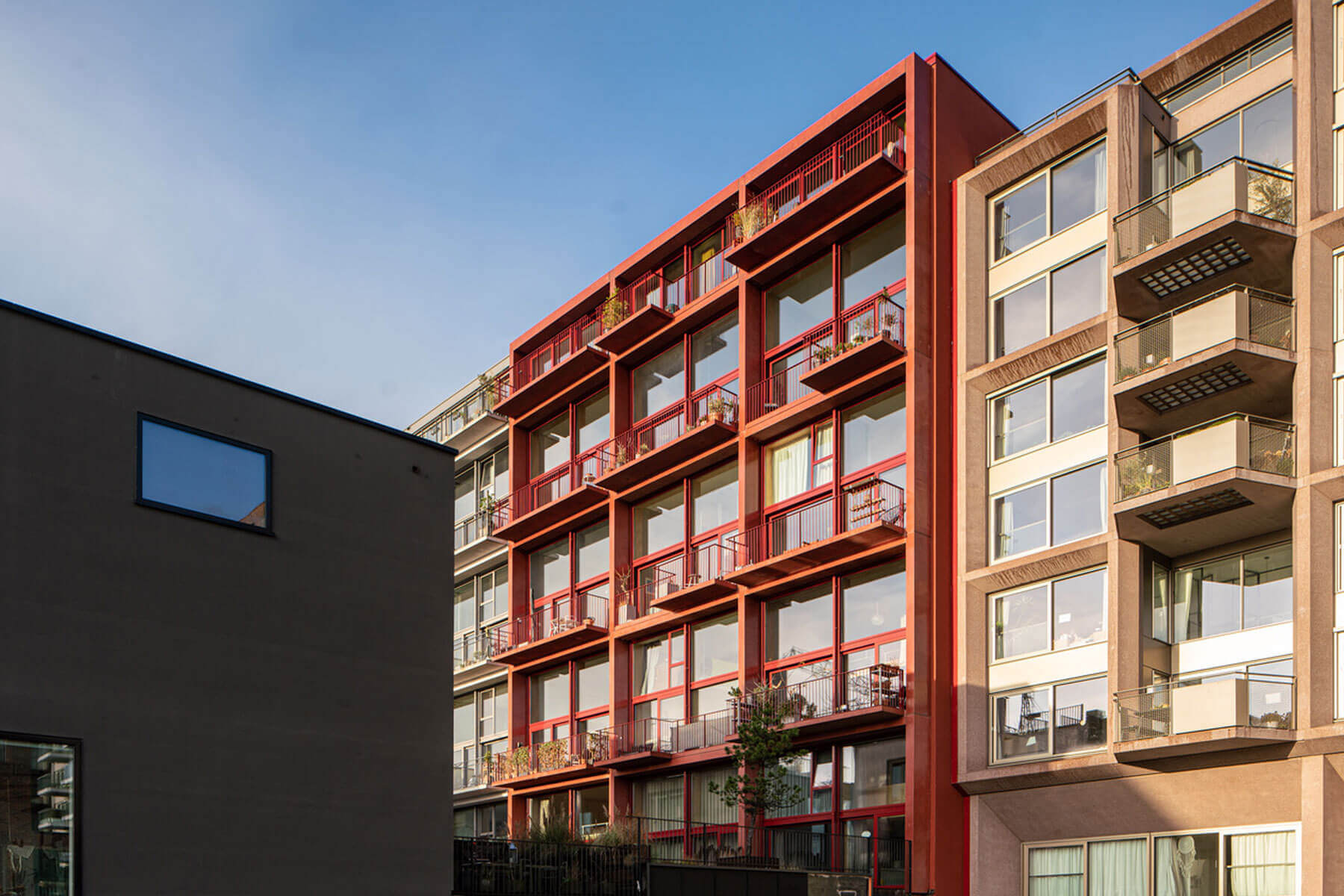 In the midst of the financial crisis, with large-scale development stalled, the city government was searching for housing cooperatives who wanted to build their own homes. MKA created an Architects collective, DeHoofden, along with de Architekten Cie, Thijs Asselbergs, Space Encounters and Hootsmans Architectuur Bureau to cultivate a grassroots community of people  interested in co-creating their own affordable homes from scratch.
There was no developer; the project was financed by the future owners and the architects, reinventing the financial model, the sales model and legal framework of residential real estate in Amsterdam.
The collective designed Houthavens Plot 1 & 2 based on Open Building principles. Apartments were prepared as shell-like boxes stacked on top of each other. MKA and Space Encounters, among other architects co-designed the interiors with each owner. The result was a collection of diverse lofts and hybrid programs, supporting a more open and inclusive neighbourhood. 
Superlofts provided new possibilities for shared living, co-ownership and the combination of living and working in one place. Residents could benefit from living in an 'urban village' that is adaptable to social tendencies and climate change. 
The casco-lofts were generally 5.7m wide, 18m deep and have two lofts of 75m2 per floor, which can be subdivided in two smaller units of 35 m2. Homes ranged from XS (35m²) for the young urban professionals to XL (200m²) homes for large families.  Multiple shafts allowed for a flexible layout and the location of kitchens and bathrooms to be freely configured. 5m high ceilings give occupants the opportunity to build in 70% extra floor space. To eliminate columns and allow open plan living, 10cm thick CLT mezzanine was suspended from the ceiling with steel rods.
The building is 30m tall, with 70 apartments. The elevator only stops at every second level, so there are just 5 stops and 10 floors. Designed to be climate neutral, the building integrates state-of-the-art sustainability features, including CO2 directed vents, solar panels, geo-thermal pumps, floor cooling with water from the canals, remote controlled sun shutters and shared mobility and e-mobility options. The external facade is a prefabricated system with an aluminum frame and triple-glazing infill. Facade openings are customised to each unit layout, while the protruding concrete frame shields balconies for privacy and prevailing weather conditions.
Read more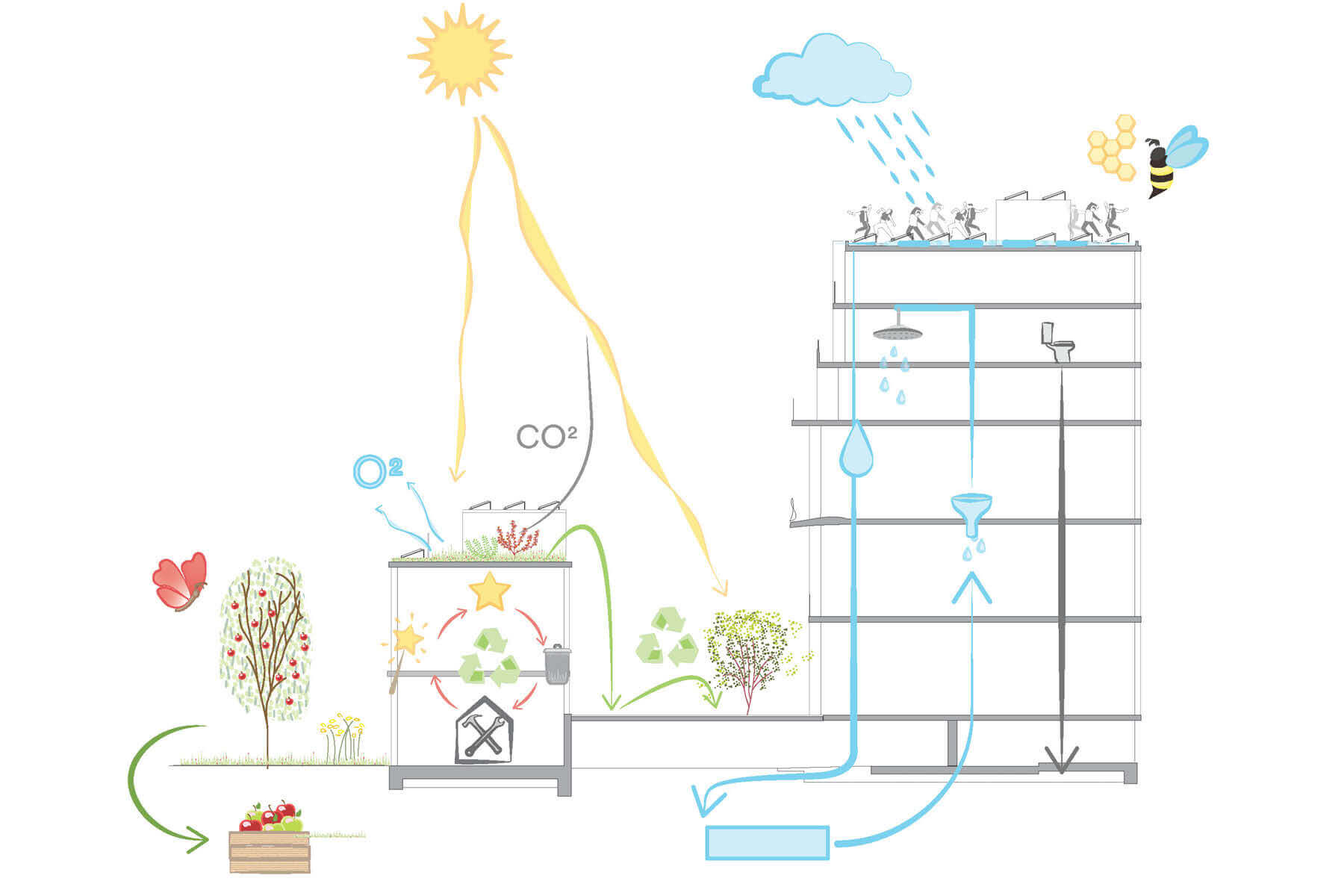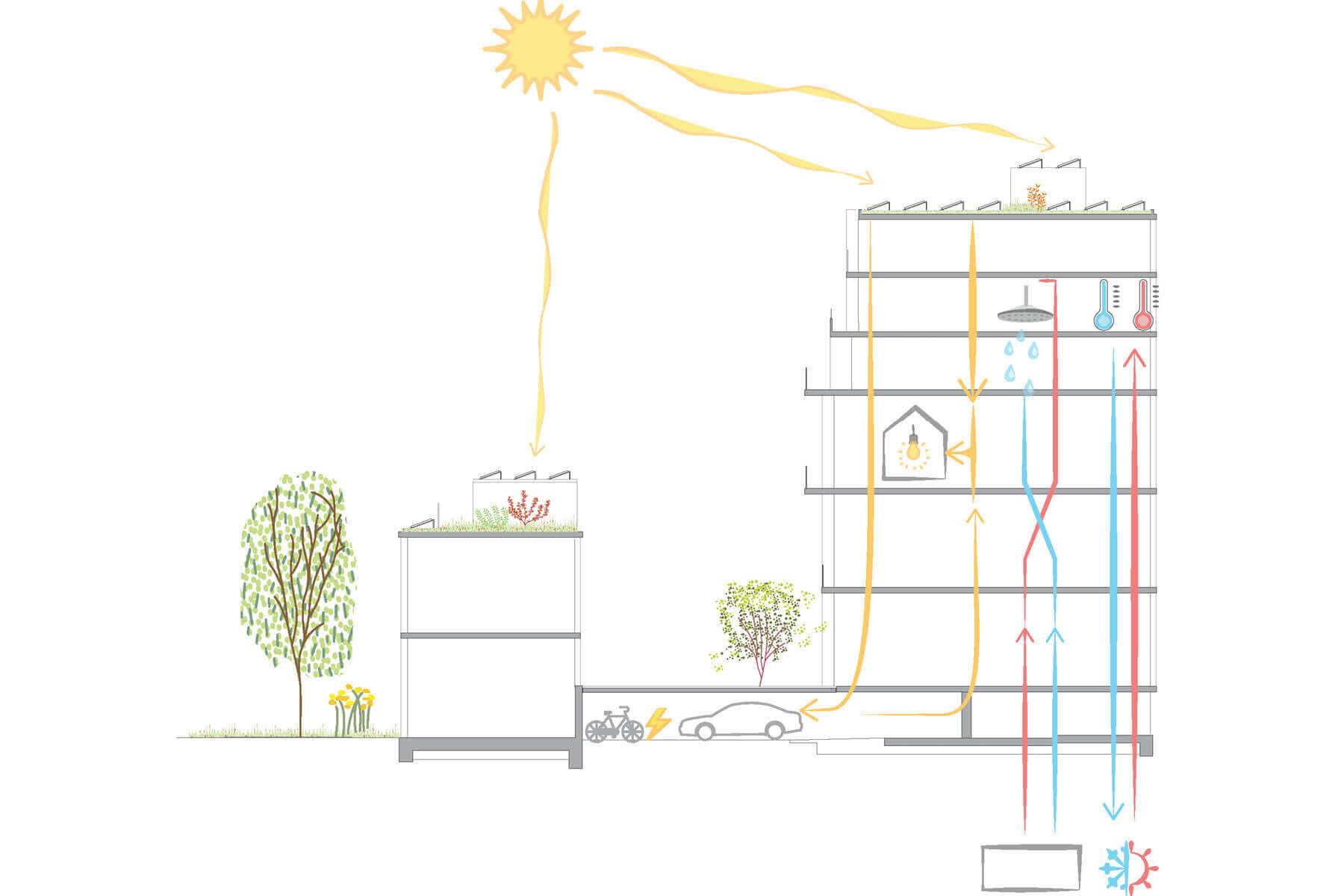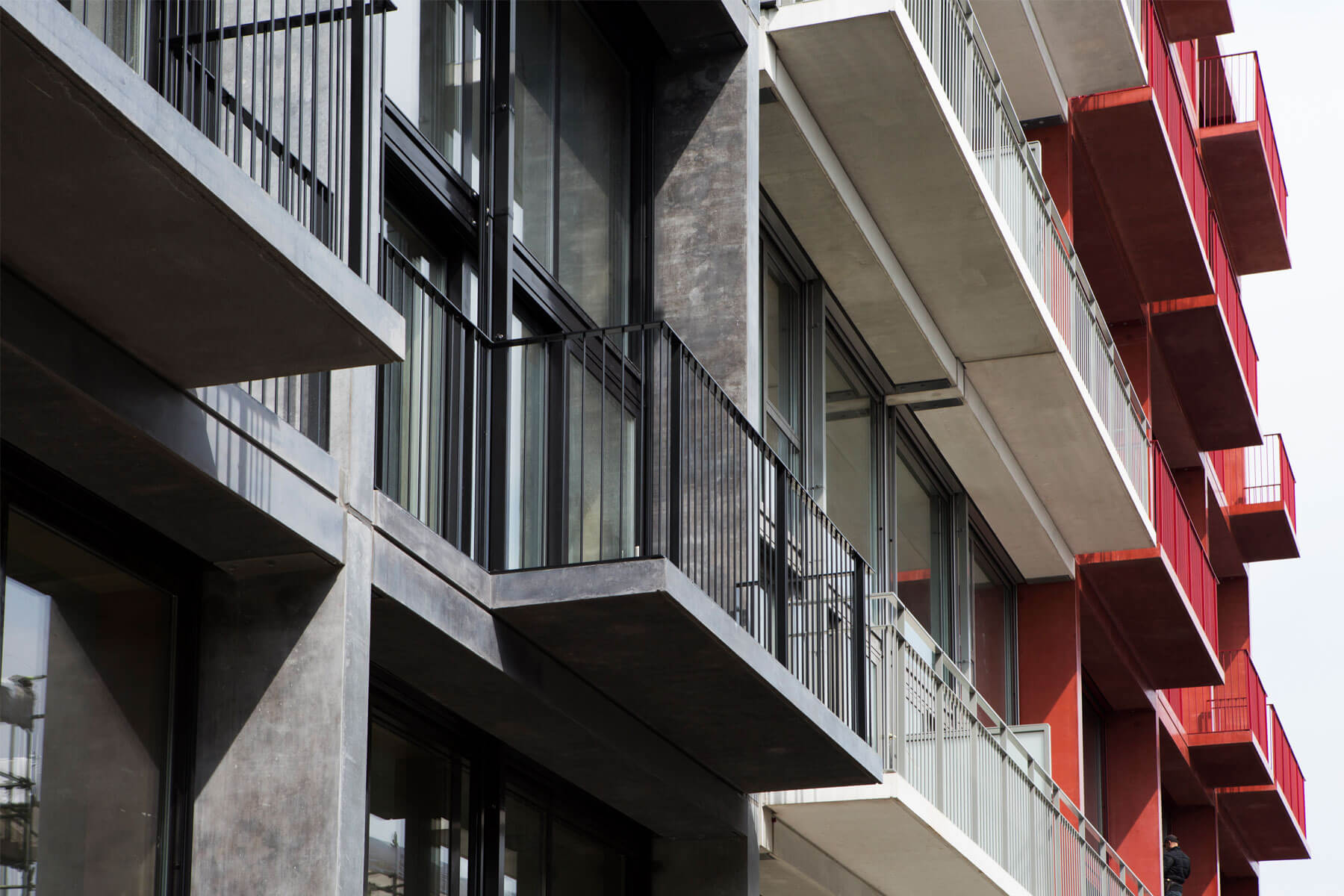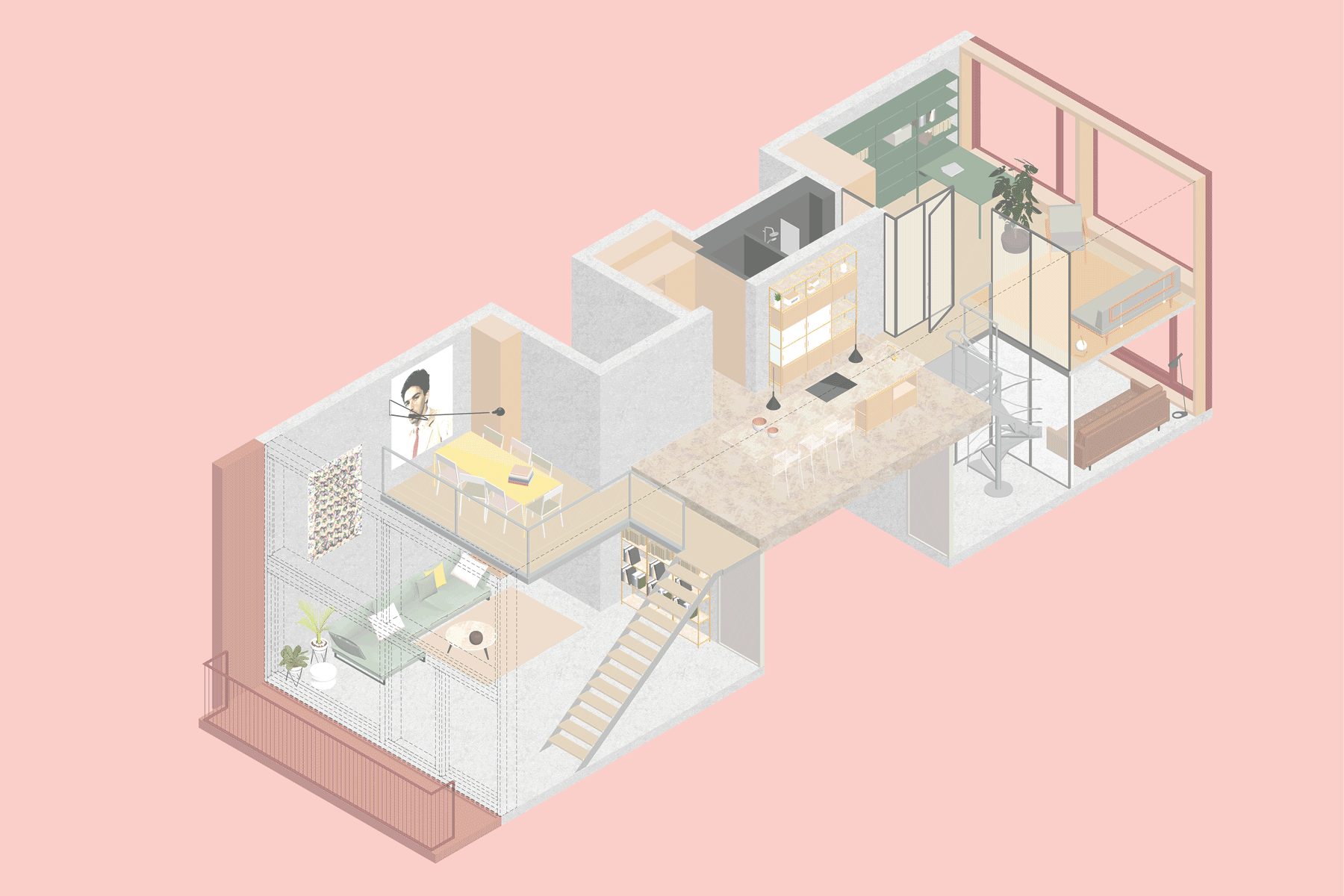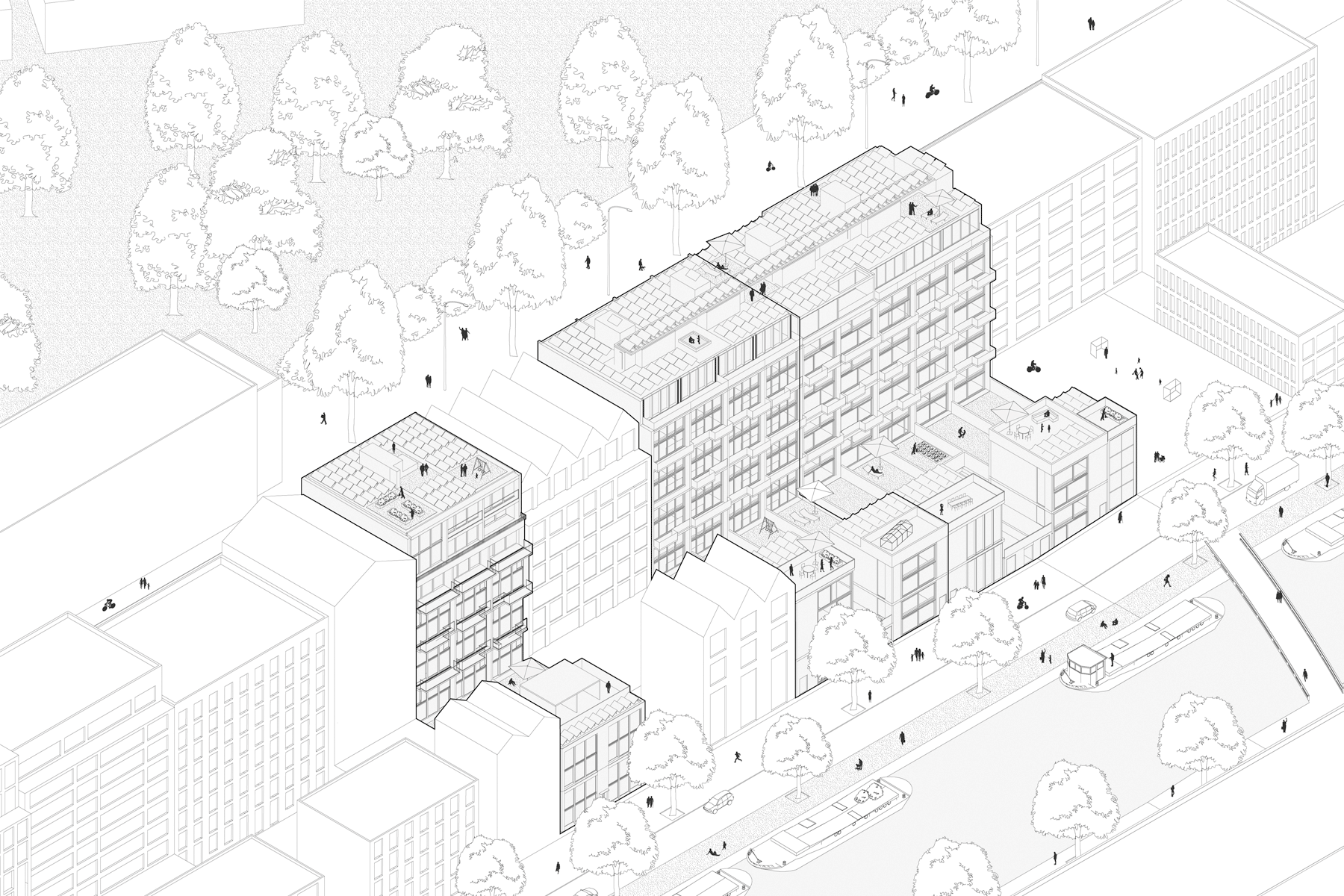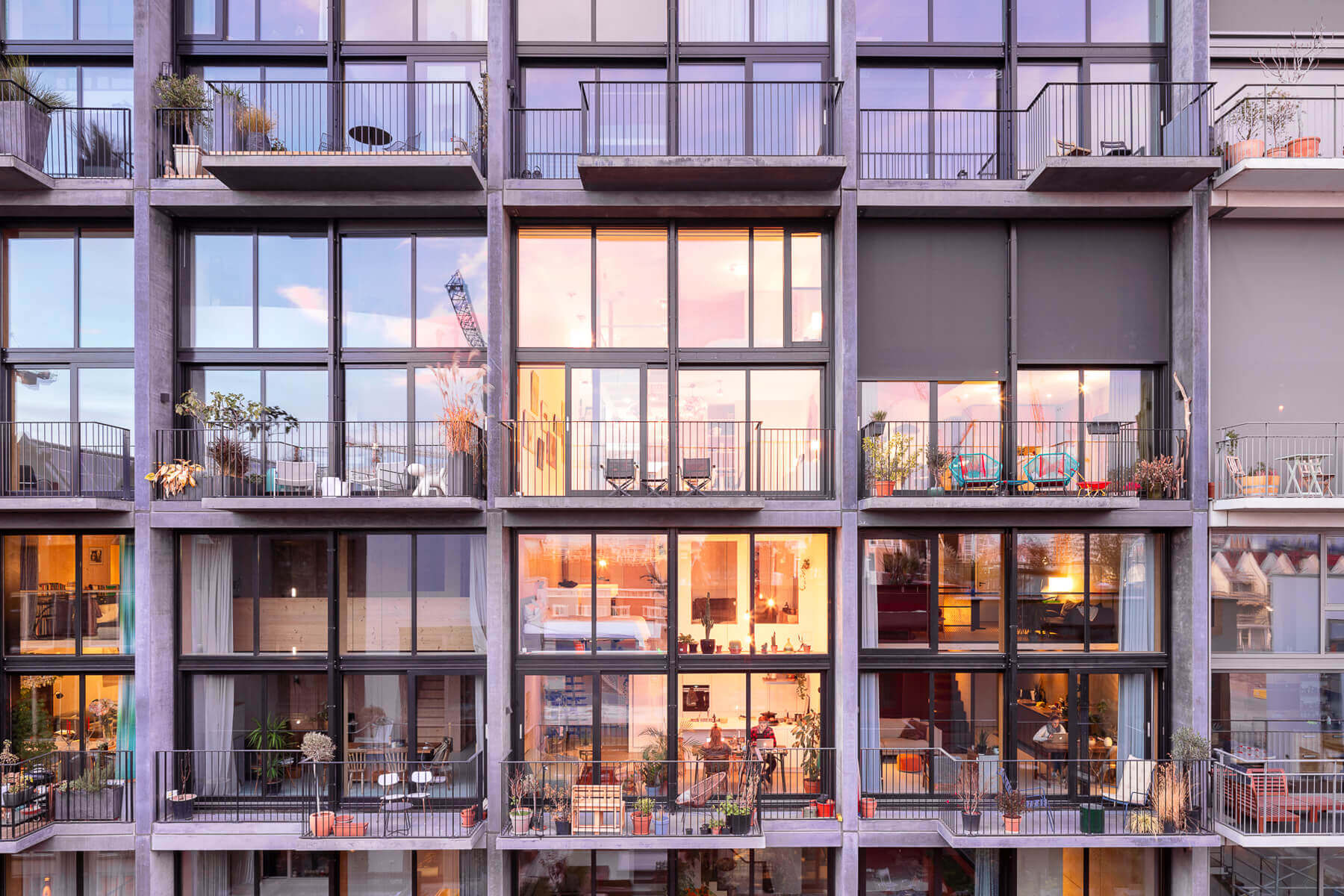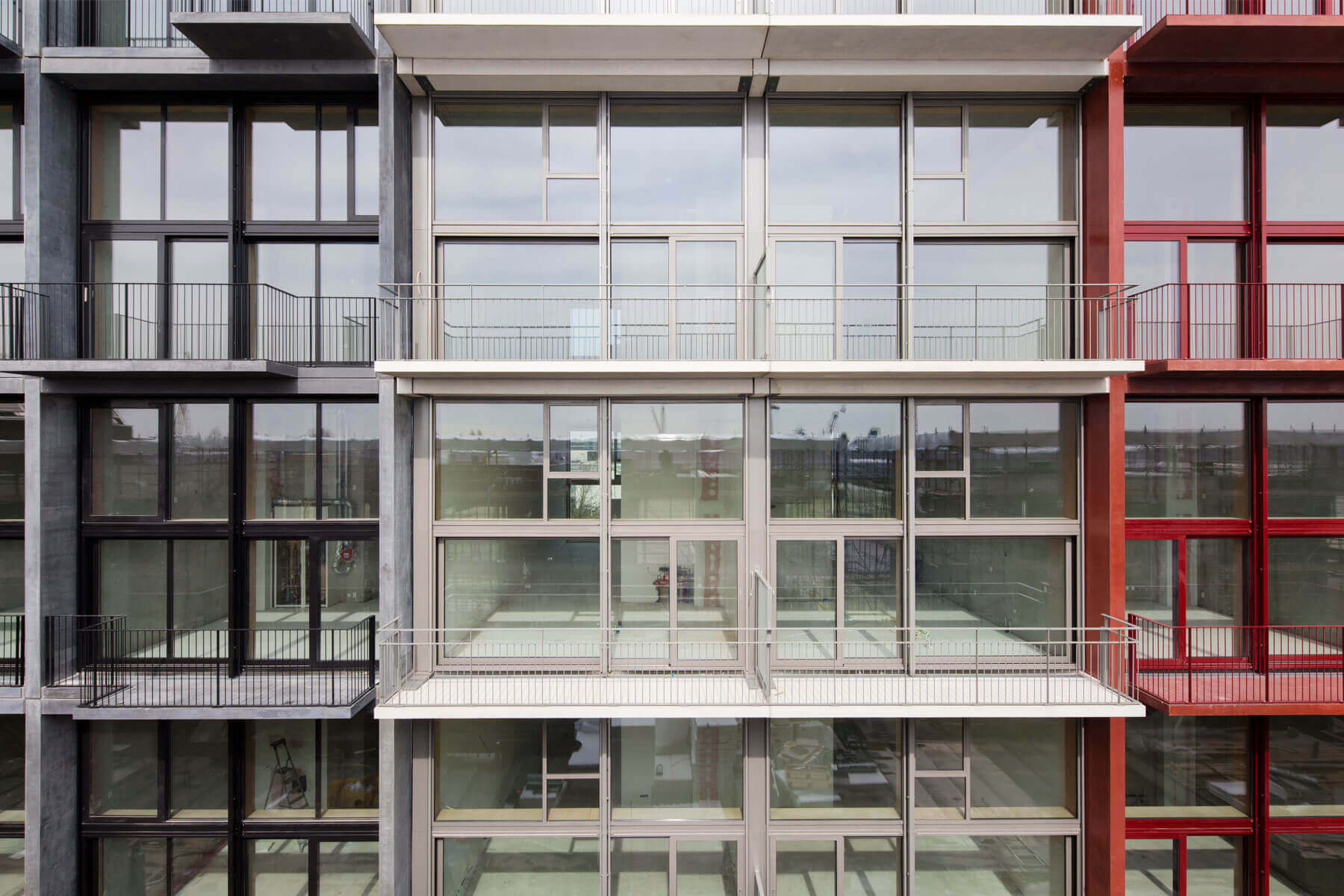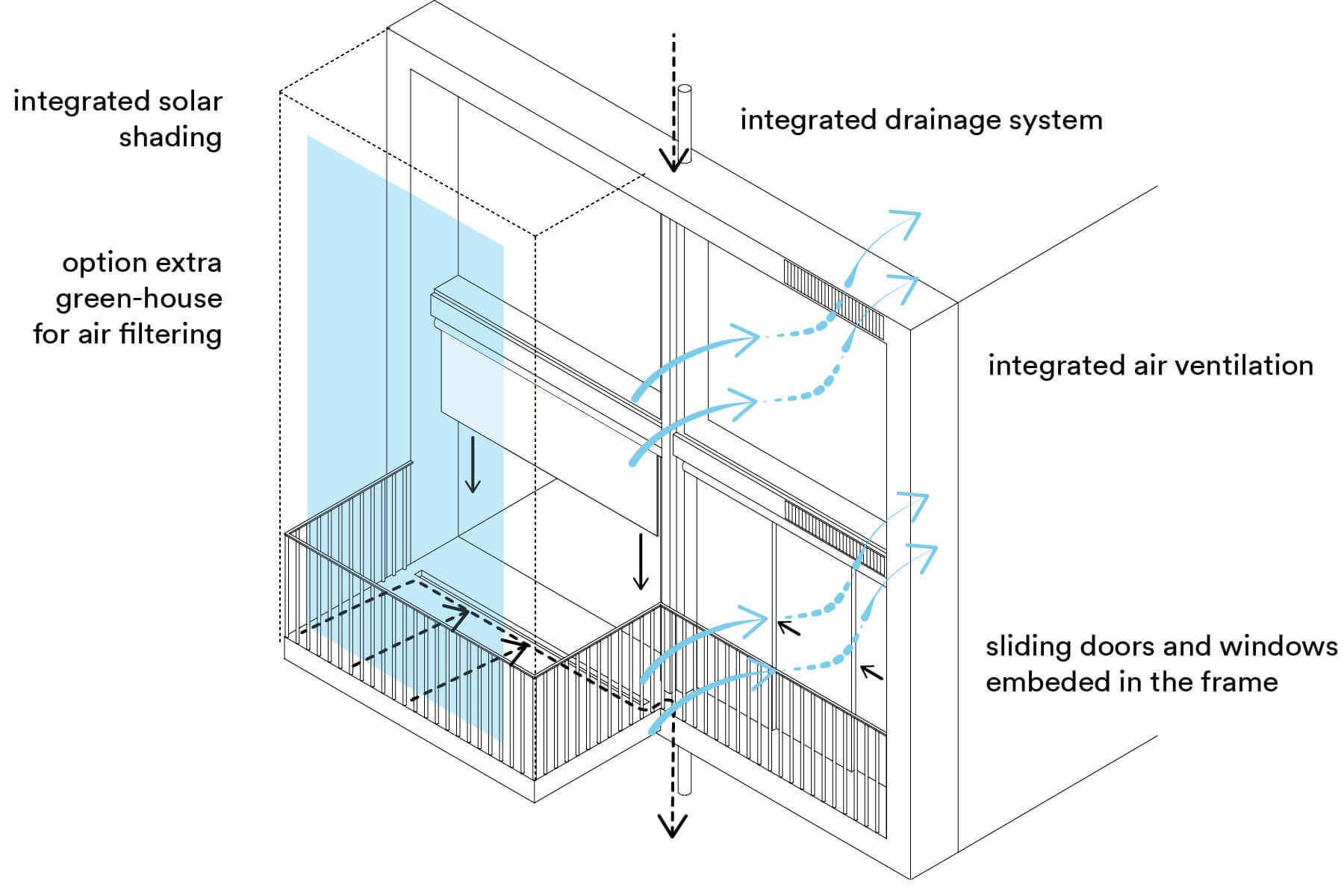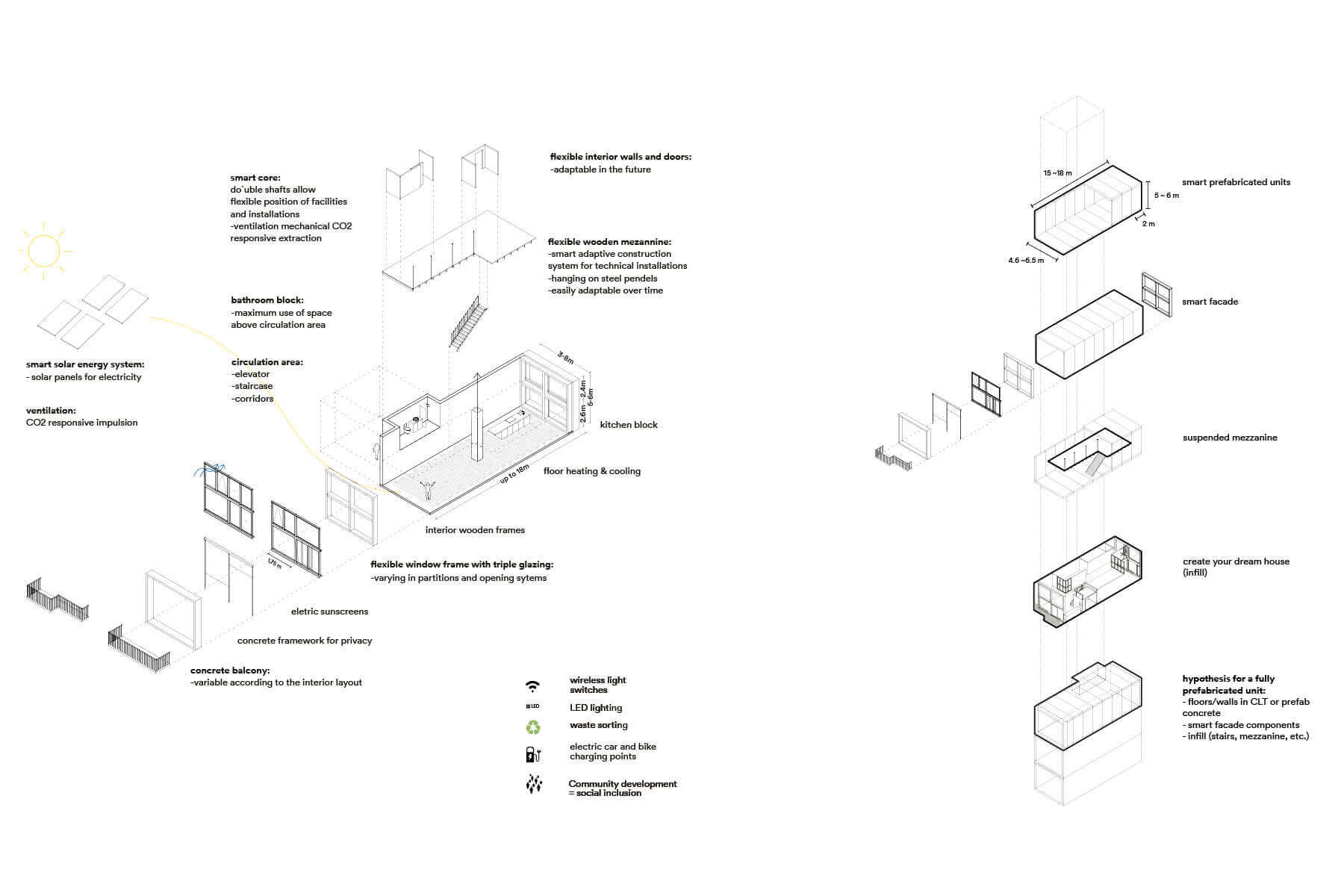 The next project, Houthavens 4, was the first official Superlofts. In spite of the sluggish economy at the peak of the financial crisis in 2012, the city government had awarded MKA more plots, where they developed the design concept further and improved it by shifting the core to one facade, allowing for even more flexibility and multi-level lofts: some cover a whole five storeys. Houthavens 4 won the Best Housing and Directors Award at the World Architecture Festival 2017.
In Superlofts Plot 4 the loft design was improved to be 18m deep with a wider bay of 6.6m that provided more generous and flexible floorplans flooded by daylight. Moving the smart main core to the facade allowed for more diverse and modular combination of loft types, varying from one to five lofts per floor with 5m tall ceilings using the Superlofts suspended CLT-floor system in each loft. Superlofts Plot 4 was built and co-financed by ERA Contour. 
Read more